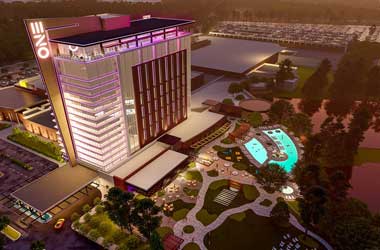 Richmond City Council gets to hold a second vote for the Urban ONE Southside casino project.
The mayor and council members are supportive of the vote.
Residents narrowly voted no in November 2021.
Richmond Circuit Court Judge W. Reilly Marchant has ordered that a referendum be placed on the November 2022 ballot regarding the Urban One group's casino plans for the city.
The City Council voted in January to try a second time for the project and the judge agrees. Voters get a second chance to bring the casino project to the capital city this year.
Last year, residents of Richmond got the opportunity to vote on a casino coming to the capital city. Urban One, a media group and Peninsula Pacific Entertainment, created a plan that would bring new revenues to the area as well as permanent employment.
Unfortunately, the proposal was rejected by voters via a narrow margin. No time was wasted in pushing for a second vote, a process that has drawn the ire of community advocates and the local hospitality workers union.
Senator Joe Morrissey was strongly opposed to the revote and even pushed for an amendment to stop Richmond from voting again. He wants to see Petersburg considered for the casino project instead. His amendment is still on the table.
While the casino plan is the same, the City Council decided to add a 2% tax rate reduction for city residents. The revenues from the venue would be used to complete improvements at Richmond City Public Schools and the city.
A Racial Issue Comes into Play Along with Confusion
With the vote in 2021, a divide was seen among white and black voters. It seems that the majority of black voters approved the venue. Analysts reviewed the voter data and found that in districts where the majority of voters are black, the yes box was checked. In wealthier, white neighborhoods, the vote leaned towards no.
It also appears a though voters were unsure of how the development would be paid for. Some seemed to vote no because they did not want the cost coming out of their pocket. Urban One plans to pay for the entire project, and taxpayers will not contribute at all.
There is also the argument that gambling will bring crime and addiction to the neighborhood, as well as harm families due to overspending or divorce. Voters who feel that gambling will bring a negative presence to the area are sure to vote no again this time around.
We will have to wait and see how the vote turns out this November as to if Richmond will add its planned casino or if Urban One will have to try and find another host city to launch its plans. The project would certainly be beneficial to Richmond by bringing in millions in revenues as well as 1,500 job positions. But is it enough to see the voters provide support to approve the project?
About the Author