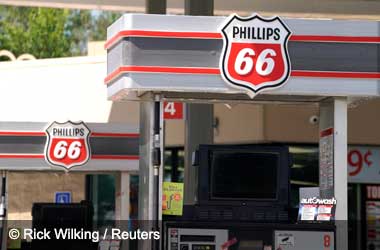 Summary
Phillips 66 does not want to see its branded stations providing gambling games.
Video gambling machines are popping up everywhere in the state.
Operators argue that their games are legal based on Missouri state laws.
Phillips 66 is a major fuel supplier in the United States that offers its services in Missouri. The company announced this week that it is opposed to illegal gambling machines that are popping up in convenience stores and gas stations around Missouri.
Video gambling machines are begin added to such facilities and are considered a form of illegal gambling. Lawmakers have failed to approve any legislation that would stop such games from being offered inside these facilities.
In a recent email, media outlets are reporting that Phillips 66 does not want to see any of its partners offering the illegal games inside their premises. Spokesman for the company, Bernardo Fallas, commented in a recent email that operators of Phillips 66 branded stations must abide by local and state law when it comes to gambling and other illegal activity.
The games are found across the state in gas stations and convenience stores, with operators saying they are legal based on current state law. Torch Electronics is one such operator who says that their games are legal because a player can select a button that shows the outcome of the wager before the player moves forward with gameplay.
Operators of these games, which are known as no-chance titles, say that the player has the ability to choose to play after they know if they will win or lose. However, the player must play the losing hand before they have a shot at winning again, which critics of the games say that this constitutes as gambling, similar to slot machines.
Torch and Warrenton Oil have filed a lawsuit against the state Highway Patrol on the matter, since the police have been investigating illegal gambling. The businesses want to stop officials from taking the machines from their stores.
Problems with Unregulated Machines
Because the gaming machines are not regulated, it causes problems with the operations. The revenues from the machines do not go towards public education or other community needs, as gambling earnings typically do.
There are no rules for payouts, which can put consumers at risk. There are also issues with gambling addiction. Because there are no regulations associated with the games, zero funds are being allocated towards problem gambling needs.
Charges have already been filed in one case involving the illegal slot machines and more may be on the horizon. A prosecuting attorney in Newton County recently accused a manger of a gas station and a supplier of slot games of misdemeanor gambling. A patrol investigator visited a Neosho station and found real casino style gaming taking place.
It will be interesting to see how the two different cases play out and if Phillips 66 decides to take any action against partners that are found to have illegal gambling machines within their premises.
About the Author