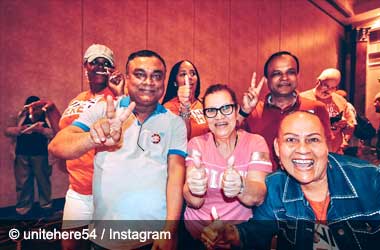 Summary
MGM and Caesars were the first to sign new tentative agreements followed by the Hard Rock.
Terms of the settlement are not public.
The agreements need to be reviewed by the full union and ratified before they will take effect.
The Fourth of July holiday is here, and five major Atlantic City casinos have avoided an employee strike. Members of the Unite Here Local 54 Union were planning on striking this holiday weekend if negotiations did not end in a new agreement. MGM Resorts International, Caesars Entertainment and Hard Rock International have all signed new tentative deals with the union. The exact details of the contracts remain a mystery.
The union gave Caesars and MGM until July 1 to sign a new agreement, or a strike would begin. New deals were signed in time, which kept MGM's Borgata Casino from missing employees as well as Caesars Tropicana, Harrah's, and moniker venue, Caesars Casino.
According to Bob McDevitt, the union president, the new agreement is the best contract the union has ever had. The deal was reached late in the evening, around 11 pm. McDevitt said that everything that was wanted and needed was provided via the contract.
The union requested significant salary increases to help with rising prices due to inflation and continued COVID-19 recovery. It is unclear as to what exactly the employees will receive. The contracts need to be reviewed and ratified before they go into effect and are made public.
Hard Rock Reaches Agreement Just Before the Deadline
Negotiating late into Saturday, the Hard Rock Casino Atlantic City finally agreed to a new deal with the union. If a deal had not been signed, the strike would have started at 12:01 am on Sunday July 3. President of the Hard Rock Atlantic City, Joe Lupo, stated since a contract has been signed, the casino can focus on doing well during the peak tourist season.
Contract terms for the Hard Rock are also under wraps. Now, it leaves only Resorts Casino and the Golden Nugget with a union contract. Both are expected to sign new deals in the next few days. Ocean Casino and Bally's are the only Atlantic City casinos that have not been affected by a potential strike.
The two casinos agreed early on to what is known as a me-to agreement. The casinos committee to take on the contract terms of the larger casinos, once an agreement is settled upon.
It will be interesting to see what the Nevada casino operators agreed to and how employees will be treated now that new agreements are in place. Will employees see higher raises than expected or just enough to get by?
About the Author