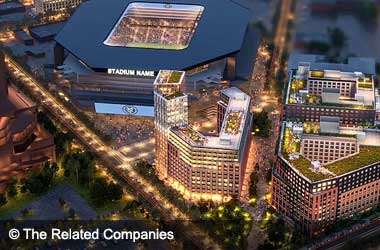 Summary:
The professional soccer team wants to create a new 25,000 seat stadium.
The club wants to use Citi Field's parking lot for home games.
Met's owner Steve Cohen wants to create a casino near the stadium and is holding out on giving the soccer club approval.
There's trouble brewing in New York City as the professional soccer team of the area and the New York Mets are bumping heads. New York City FC has been working for some time to create a new 25,000 seat stadium for its fans. The stadium would be situated near Citi Field, the home turf of the Mets.
The project also includes a housing development. Met's owner Steve Cohen has his own plans for the area and his casino proposal is slowing down the soccer team's efforts.
Parking is an Issue
The soccer club is not required to offer parking, so the team assumed they could use the parking lot of Citi Field for its home games. This of course, would require the Met's to give the green light. Owner Cohen wants to build a casino near Citi Field and allowing the soccer team to use the parking lot has become a sticking point.
Cohen wants to use 50 acres nearby that is considered park land to create the destination resort. He is not giving approval for the MLS team and using the parking situation as leverage to get what he wants. The NYCFC plan would create 2,500 housing units near Citi Field and a school. This would be the first phase, offering affordable housing to locals.
The second phase would include the soccer stadium and a hotel with 350 guest rooms. Construction of this phase would not end until the 2026 World Cup. Cohen appears to be trying to gain support for his New York casino project, but it is slowing down the efforts of the MLS team.
Stiff Competition for a NYC Casino
The plans by Cohen for a casino near the stadium may be a pipe dream as there are several major players in contention for an NYC casino license. Three are up for grabs but two are probably going to existing Class II venues. This would leave only one license for everyone to compete for.
The Las Vegas Sands, Wynn Resorts, and Resorts World are part of the mix of operators hoping to be selected. Most plans are coming up against some points of contention, so it is really unclear which will be selected. Some plans have issues with residents not wanting a casino in their area or land conditions.
We shall see in the coming months which plan is accepted and how the state will be able to move forward with its licensing efforts.
About the Author