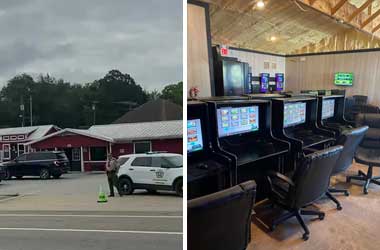 Summary:
A game room in Pritchett was raided.
It is unclear the scale of the illegal gambling operation.
Several warrants were served in the raid.
Organized crime and illegal gambling is a major problem not just in Florida as we reported yesterday but also in Texas and just this week, a raid took place to try and shut down the activity.
Several locations in East Texas were part of the raid, with the Department of Homeland Security helping local law enforcement in Upshur County to raid an alleged illegal game room in Pritchett. Several arrests were made in the process and materials confiscated.
A Game Room and Two Residences Raided
Police surrounded a game room and two residences in the raid, serving several search warrants based on illegal activity. The sting operation was over a year in the making with an objective of shutting down the operation and finding every single co-conspirator.
Individuals involved in the case are charged with conspiracy, illegal gaming and money laundering. Several agencies were on hand to help with the raid, including a helicopter for overhead surveillance. Once inside, police found several individuals and removed large boxes of confiscated items.
It has yet to be reported how much money was involved in the illegal gambling operation. We do know that it was apparently a large-scale business, and it was a large enough business that multiple warrants were served.
Agents are continuing to follow leads and try to locate every person connected to the criminal activity. More information on the case should be provided in the future.
Legalized Gambling is Much Needed in Texas
Right now, gamblers in Texas do not have commercial casinos they can visit to play slots and table games. Without a legalized market, criminals have come in and set up areas for players to wager. The underground market has taken off due to the lack of options in the state.
Legislation has been on the table for quite some time in Texas to see casinos come to such areas as Dallas/Fort Worth. Strong backers are supporting the effort including the Las Vegas Sands Corporation. The lack of gambling and the large population would create a booming industry from the very beginning.
However, Texas is considered a conservative state and enough support from lawmakers to pass such legislation continues to be an issue. Hopefully, instances such as this will help lawmakers see that there is a need to control the illegal market by offering legalized and regulated gaming options. We shall see in time if lawmakers are able to make any headway with a gambling bill and bring the industry to life in the Lone Star State.
About the Author