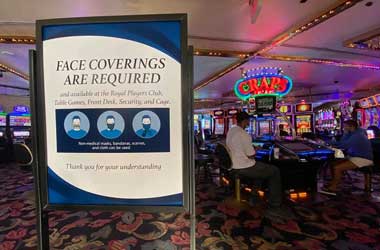 Summary
Face masks are no longer required within indoor settings in Nevada.
Guidance was issued by the Nevada Gaming Control Board to casinos regarding masks.
The Board does expect full compliance if a jurisdiction has a mask requirement.
Is Las Vegas on the verge of returning to normal, at least some sense of normalcy since the COVID-19 pandemic began? This week, Governor Steve Sisolak announced that the state's indoor mask mandate is no more. After almost two years, the state is no longer requiring patrons to wear a face covering while indoors. Casino operators are excited about the change and ready to get back to normal operations.
Once the governor made his announcement, the Nevada Gaming Control Board followed with guidance for casino operators, reiterating the point that masks are no longer required. The Board did stipulate that the casinos must follow any local jurisdiction guidelines. If local areas require masks, then the casinos must comply.
It is expected that the decision will boost tourism once again in Sin City as well as other areas like Reno. The change comes as the Super Bowl is about to get underway and should help to bring back big convention events as well as international travel.
Many travelers were not open to coming to Las Vegas due to mask mandates. While a portion of Americans are open to masking, a large group of residents from around the country refuse to mask up and will not travel to areas that have this requirement in place.
Employees May Still Be Required to Mask Up
For employees, there may still be a requirement to wear a mask in some areas. The Culinary Union Local 226 is a group representing around 60,000 workers in the Nevada hospitality industry. The group reported that some employers may still want employees to wear a mask. The public has been urged to respect the employees who choose to wear a mask regardless.
The union says that any employee who continues to wear a mask at work should be treated with both understanding and respect. It is their right to do so. Patrons are also free to wear a mask indoors within casino facilities if they feel more comfortable doing so while visiting.
The decision is also a relief to employees in a sense as they will not longer have to push patrons to wear a mask in general or wear one correctly. Employees were in charge of helping the casino follow local mandates and this put a lot of pressure on the workforce as they had to deal with not so nice customers that were unwilling to follow protocols.
It will be interesting to see over the next few weeks if tourism picks up considerably in the state, particularly in the Las Vegas area, due to the mask mandate change.
About the Author