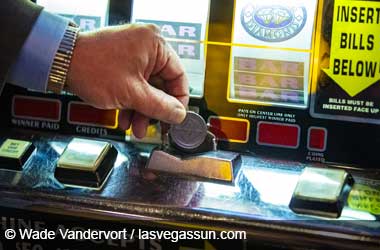 Many Las Vegas casinos are scrambling for ways to meet their customers' demand for coins in light of the current coin shortage in the United States. Coin-operated slot machines are a staple of the classic Las Vegas experience. Presently, coin-operated slots are relegated to niche casinos that cater to this specific segment.
One such casino is El Cortez, located in downtown Las Vegas. Adam Wiesberg, El Cortez's general manager, reported that their casino held roughly $120,000 in change for their 100 coin-operated machines before the pandemic.
Once the pandemic hit, El Cortez deposited the coins to their bank, leaving just $30,000 in their possession.
El Cortez attempted to get the coins back once they were allowed to re-open, but they were rebuffed by their bank. Wiesberg said that El Cortez tried to order $30,000 in quarters from their bank but was given just $500 worth of quarters.
Wiesberg said that El Cortez customers are encouraged to bring in their coins to help buoy their supply. They have responded so far, with as much as $75,000 in coins collected in just one weekend. El Cortez has responded by removing a 5% fee for the use of their coin-counting machines.
KTNV Channel 13 Las Vegas
El Cortez is a classic Las Vegas casino that serves a loyal fan base. With customers going as far back as the 1950s, El Cortez is adamant that coin-operated machines will remain a fixture of their business for years to come.
Wiesberg said that, despite the increasing difficulty of finding spare parts and servicing the machines, coin-operated slots are here to stay at El Cortez and many other Las Vegas casinos as well.
Coin Shortage Temporary
Coins are now in short supply across the US due to the shuttering of non-essential businesses during the peak of the COVID-19 pandemic. Additionally, many US shoppers are becoming averse to handling coins due to fears of contracting COVID-19.
In pre-pandemic times, retail businesses served as conduits for coins to circulate the nation. The coin shortage is expected to be a fleeting issue, one that will end as more US businesses start to re-open.
Steven Mnuchin, Treasury Secretary, has called on consumers to use their coins or have them changed by banks so that the coin supply chain is restored. Till it is fully resorted, Las Vegas Casinos with tradition coin operated slot machines will have to find new ways to keep their machines active.
About the Author