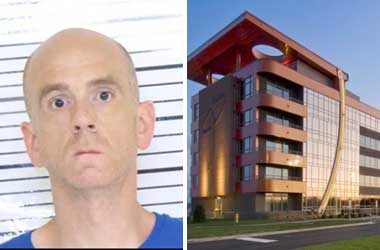 The accused reportedly took over $4,000.
The cash was spent at Bally's Quad Cities Casino and Hotel
Myers has a hearing set for next week in Scott County Court
Unfortunately for places of business, theft is a common occurrence. Sometimes the theft is via an outside source while other times, the business is affected by an employee.
Most business owners vet their workers and feel secure in allowing the individuals to handle their money.
In most cases, this is how it goes, but other times employees decide to steal. Take a recent incident in Iowa. A firework stand employee decided to take the bulk of a night's earnings and spend it at a local casino, instead of leaving for his employer to claim.
Details of the Robbery
Charles Lee Myers Jr., age 41, is from Moline, Illinois. He was working at a firework stand in Iowa that raked in a pretty penny over the holiday. Working at Jake's Fireworks in Davenport, Myers Jr. decided after one night of work that he would take the earnings and visit the Bally's Quad Cities Casino and Hotel located in Rock Island.
It is unclear if the employee thought he could win some cash and then turn back in what he stole or if he was just stealing to gamble in general. After getting caught, Myers Jr. admitted that he took the money and spent it at the casino.
Records indicate that there was just over $4,250 in the drawer where Myers Jr. was working on the night in question. The business owner stated in his report to police officers that only around $600 in petty cash remained and a few coins left in the drawer.
Myers Jr. was arrested for the incident and was released. He will attend a preliminary hearing next week, on July 15.
Florida Woman Steals Much More
While Myers Jr.'s decision to steal was brazen, it is not the first time that an employee has stolen from a place of business to gamble. Just last month, a woman from Cape Coral, Florida was charged after stealing over $106,000 from her workplace.
Stephenie Lynn Parramore faces charges of grand theft over $100,000, scheme to defraud $50,000 or more, plus forgery. According to court documents, Parramore completed over 100 transactions, from $500 to $61,000. The unauthorized transactions cost her employer over $100,000.
The employee was also caught using a company credit card to gamble at a facility called Vegas III. The property operates legalized slot machines and Parramore was apparently a reoccurring customer but didn't use her own money to gamble.
About the Author