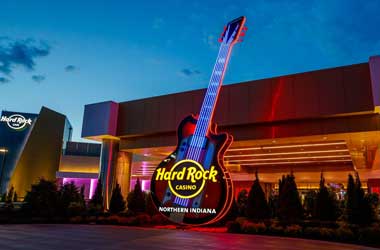 Hard Rock generated over $32 million for the month.
Earnings were a 5.7% increase from the previous month.
Hard Rock continues to dominate the market surpassing former leader, the Horseshoe.
It seems nothing can stop the Hard Rock Casino Northern Indiana from being successful.
The brand continues to dominate in Indiana, hitting a new revenue high point with December totals. The Indiana Gaming Commission recently released the revenue totals, and it showed the brand beat the Horseshoe Casino again, earning $32.4 million in December.
Hard Rock's table games and slots are doing well, with the past three months showcasing quality revenue earnings, with an increase month after month. For December, the earnings were 5.7% more than November and almost 10% more than Horseshoe's earnings in December. The Hammond casino only generated just over $29 million.
Hard Rock Casino Northern Indiana president Matt Schuffert commented that the new casino had its strongest month yet in December. The brand just opened in mid-May, replacing the former Majestic Star casinos in Gary, Indiana.
According to Shuffert, the table game business of the brand continues to perform well. The earnings are led by baccarat gaming. The casino also added more slots in December with more games coming soon. The president feels that the New Year's Eve celebration hosted by the casino also helped the brand to reach new revenue highs.
Table Game Revenue Breakdown
The commission reported that Hard Rock generated over $45 million in wagers at its table games. This was much higher than the just over $30 million posted at the Horseshoe. For both casinos, baccarat is the most popular table game. Hard Rock generated over $26 million in play while Horseshoe saw only $11.1 million. The win totals came in at $5.8 million for Hard Rock and $1.6 million for Horseshoe.
When it comes to blackjack, Hard Rock also had the upper hand. The brand saw $8.4 million in wagers compared to $7.7 million at the Horseshoe. Win totals came in at $1.8 million for Hard Rock and $1.7 million for Horseshoe.
While the Hard Rock Casino easily outpaced Horseshoe with its table games, slots are another story. Horseshoe was the top earner here, generating $226.7 million in play. Hard Rock only saw just over $224 million. Horseshoe edged out Hard Rock with slot win, coming in at $22.9 million to $21.9 million.
It has been estimated that Hard Rock will maintain the lead due to upcoming entertainment options. The casino plans to host several big music stars including Clint Black and The Jacksons. It will be interesting to see if Horseshoe can make a play for first place again or if the Hard Rock will remain in the lead.
About the Author