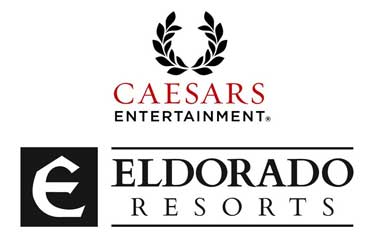 The blockbuster merger between Eldorado Resorts and Caesars Entertainment, worth $17.3 billion, has received its penultimate approval from the Indiana Horse Racing Commission (IHRC) earlier this week.
The final hurdle for approval will be to get the green light from New Jersey gaming regulators which should be done before the end of this week.
With the approval of the IHRC, Eldorado will now operate two racetrack casinos currently possessed by Caesars: Indiana Grand Racing & Casino in Shelby and Harrah's Hoosier Park Racing & Casino in Anderson.
Aside from the two racetrack casinos, the proposed merger would also make Eldorado the owner of the Horseshoe Southern Indiana in Elizabeth and the Horseshoe Hammond. Eldorado is currently the owner of Tropicana Evansville.
The merger between Eldorado and Caesars was given the OK by Nevada regulators last week and this week it got the required approval from Indiana. The merger will result in a mammoth gaming conglomerate with almost 60 properties located across 16 states. Eldorado's management team will take charge of their merged operations, with current CEO Tom Reeg set to hold the reins of the merged company.
Eldorado Unloading Properties to Meet Regulators' Demands
The Indiana Gaming Commission (IGC) also approved the deal but ordered that three of the five casinos Eldorado is set to operate after the mergerto be sold before Jan. 1, 2021. Reeg had expected to sell just two of the company's Indiana casinos, but the IHRC may have been worried that Eldorado's local gaming portfolio would stifle competition within the industry.
Eyewitness News WEHT WTVW
;
The five Eldorado casinos in Indiana contribute almost 60% of the nearly $600 million a year in gaming taxes collected by the state in 2019. One member of the IHRC was said to have pushed for even greater limits on Eldorado's market share, which should stand at 40%.
Reeg has informed the IHRC that the new company will sell the following three properties to fulfill the commission's requirements: Tropicana Evansville, Hammond Horseshoe and the Caesars Southern Indiana.
Across the U.S, Eldorado has been unloading properties to fulfill requirements by states and the Federal Trade Commission. Eldorado has sold the operations of MontBleu Resort Casino in Lake Tahoe as well as the Eldorado Shreveport in Louisiana to Twin River Worldwide Holdings for $155 million.
Eldorado also plans to unload one other resort at the Las Vegas Strip that is presently owned by Caesars. On the NASDAQ, Eldorado shares closed at $39, down 2.86%, while Caesars shares closed at $12.14, down 0.74%.
About the Author