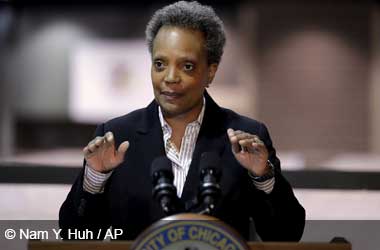 The first casino that opened its doors to the public in Illinois was a riverboat casino back in 1991. Since then another 9 casinos have gone live bringing the total number of casinos in the state to 10. However, there are no casinos in Chicago which is the third biggest metropolitan city in America.
Chicago has tried for years to get approval to develop a casino resort but things did not work out. However, the state legislature made changes in 2020 that gave Chicago permission to offer one single casino license.
Chicago will announce a Request For Proposal (RFP) in April asking all interested casino operators to submit their RFP and outline what they will bring to the city of Chicago in terms of developing and operating a top casino resort.
Chicago Mayor Lori Lightfoot was rather transparent and said that she hopes that the RFP process draws the attention of Las Vegas based casino operators as she was keen for Chicago's only casino resort to have a Las Vegas address. Mayor Lightfoot also went on to add that while she prefers a Las Vegas casino operator, the process would be transparent.
CBS Chicago
Mayor Lightfoot said Chicago had a lot to offer the casino industry and at the end of the day they wanted a developer who would build a top quality casino resort that would add value to Chicago. The Mayor said that while she would not divulge any names of Las Vegas casino operators, there are certain brands that they would be very keen on welcoming.
MGM and Wynn Interested
It's not hard to figure out which brands that Mayor Lightfoot may have in mind. Given that Sands Corp. has pulled out from the Las Vegas market and is no longer focusing on the U.S casino industry, Sands Corp. is ruled out. Wynn Resorts and MGM Resorts International have already responded to Chicago's request for information.
The third casino operator that responded was the Hard Rock International brand which is owned by the Seminole Tribe of Florida. There were concerns initially that casino operators may not be attracted to develop a casino in Chicago due to the high tax rates. Operators are expected to pay a tax rate of nearly 40 percent. To give you an idea of how high that is, Nevada charges 6.7 percent which is the lowest is the country.
We will have to wait a few more weeks to find out how many developers are interested in building a casino resort in Chicago.
About the Author