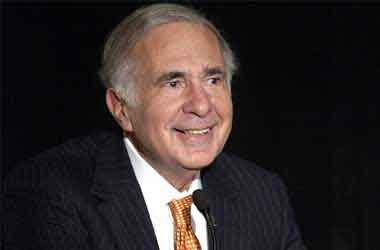 Carl Icahn the owner of shuttered Atlantic City casino Trump Taj Mahal is reportedly in talks to sell the casino to another casino operator. A local media report has citied sources stating that Icahn is speaking to several operators for a possible sale.
The move comes in the wake of New Jersey legislators recently passing a bill that would punish Icahn for closing the casino by placing a five-year suspension on his casino license. Under its rules, the owner can reopen the casino only if negotiations with the casino's union workers are concluded successfully. The bill was primarily introduced to block any move by Icahn to reopen the casino in a new avatar staffed with non-union workers.
The bill is currently awaiting approval from Gov. Chris Christie, who has so far not indicated his stance on the issue. Even if Gov. Christie signs the bill, according to a source quoted, the bill will have enough votes in the legislative assembly to clear.
Icahn has called the bill was unconstitutional and absurd given that it is retroactive and would be affecting him alone. In a statement Icahn said,
The bill is another absurd antic by [New Jersey State Senate President Stephen] Sweeney that will hurt Atlantic City.
Carl Icahn took the Trump Taj Mahal in 2015 out of bankruptcy and invested a significant amount of money to revive the struggling casino. However contract negotiations between casino management and union workers broke down earlier this year over restoration of healthcare benefits, leading to the union calling for a strike. With neither side budging on their positions, the management took the decision to shut down the casino in early October. According to sources, Icahn has lost over $200 million in the process. He has so far not commented on the sale speculation.
Bob McDevitt, president of the union, Unite Here Local 54, has said that the union doesn't want to have differing standards across the casinos in the city, referring to the lower pay offered by Trump Taj Mahal. Out of the four casinos which were facing a strike, three – Caesars Entertainment, Borgata Casino and Icahn's Tropicana – reached an agreement with the workers.
McDevitt said that around 40 percent of the 1,000 union workers who worked at Trump Taj Mahal were still unemployed. A sale to a new owner could possibly be a way to bypass the proposed law and reopen without union workers.
About the Author