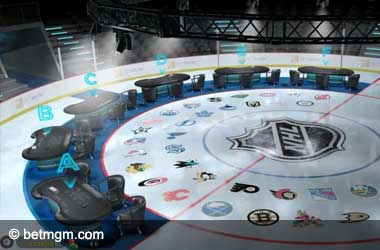 Summary
Roulette, Blackjack, and Baccarat are among the launched games.
Players in New Jersey, Michigan, Pennsylvania, and Ontario have access to the online titles.
The titles further the online casino brand's relationship with the NHL.
Top-rated online sports betting and casino gaming provider BetMGM has announced the growth of its gaming options in several states across the US. The company recently released new casino games branded after the National Hockey League (NHL).
Players can enjoy hockey themed blackjack, baccarat, roulette and Dream Catcher. The titles are offered in Pennsylvania, New Jersey, Michigan, and Ontario.
New Titles Developed by Evolution
The new games are available in all states where BetMGM is approved to offer its online casino services. The titles were created with the help of Evolution, a quality software developing company. To boost the player experience, Evolution has added three dimensional aspects to the game along with animations.
Each title has a 'go live' button that players can select if they want to enjoy the live dealer version. Players head on to the ice and get to compete in live format, which makes gameplay much more exciting.
Because the games were created in partnership with the NHL, the logo of the league is prominently displayed within the title. Team logos also cycle throughout the arena of the game which creates nice visual interest.
BetMGM Director of Gaming, Oliver Bartlett, commented on the new title by stating:
The launch of these one-of-a-kind games further strengthens our relationship with the NHL. As the season approaches, we're thrilled that our players will have the ability to 'drop the puck' with BetMGM.
Details of the New Casino Games
Each of the new titles offers a stimulating experience via a table game. NHL Roulette includes interactive results and statistics within the game board. There are realistic ball movements too where players feel like they are actually at the table.
With NHL Blackjack, the developer takes players into an arena skybox where they can move seats while playing twenty-one. The NHL Baccarat game includes a similar experience and really immerses each player into gameplay via the setting.
Dream Catcher is also available at BetMGM with an NHL theme, and it comes complete with a Money Wheel format. Players will wager on the number they think will appear with the spin. There are multipliers included on the wheel so once it stops, if you guessed correctly, the prize may be boosted.
NHL Vice President Business Development Jason Jazayeri commented on the new games stating that the NHL is excited to have broadened its relationship with BetMGM. The new platforms will allow the league to have a deeper connection with NHL fans in an immersive and compelling way.
About the Author