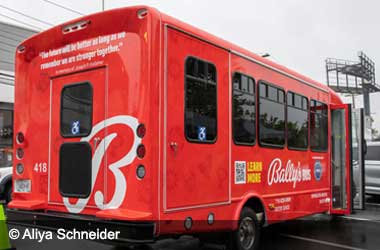 Summary:
A small 20-seat bus will start running on October 1
The bus will run for three months.
The Bronx is hurting for transit, and this could help alleviate transportation issues.
With so many casino companies vying for licensing in New York City, every bidder is trying to stand out from the competition. For Ballys', the operator hopes that a new bus line will put the company at the top of the list. The new bus line will have ten stops and feature 20 seats, starting on October 1.
Transit Assistance Provided
The Bronx already has transit issues, so Bally's hopes its bright red, 20-seater bus will help. The company has promised a ten-stop route that will be free to patrons. The bus route will begin on October 1 and could be just the thing Bally's needs to be in the running for a license.
The casino hopes to score a gaming license in downstate New York and offer services in the Bronx. Bally's offered details on its new bus route yesterday to local officials, hoping to get support for their casino project plans.
The bidding process calls for community input, so operators are trying to get the community involved to ensure they have backing to be considered. Panels of local politicians must back the project for it to even be considered. Many neighborhoods are not happy with casino plans and are causing issues with developers hoping to move into certain areas.
Bally's Casino Plan
For Bally's, the company hopes to use a golf course property that the Trump Organization owns to create a casino. The property is not heavily trafficked and has been accepted by local officials. In September, Bally's signed a deal with the Trump Organization to take over the golf course, and the name should soon be removed from the links.
The Trump Golf Links at Ferry Point is one of the bus stops on the route, allowing Bally's to bring in customers as well as help the community. The proposed bus route will be 30 minutes long and include a stop at Throgs Neck ferry, a great connection to bring in people from Throgs Neck, Westchester Square, and Schuylerville.
The bus will run for five days a week and offer service from 10 am to 7 pm. State Senator Nathalia Fernandez is in support of the bus route as it will support local businesses and bring in benefits to residents. Other local officials are also on board as they see the bus route as a way to stimulate economic growth.
It will be interesting to see if the route is enough to push Bally's to the forefront of the competition as major players vie for the licensing in New York City.
About the Author