Wild Casino
Bonus Offer:
$5,000 Welcome Bonus
More Info
Available Games
Slots
Blackjack
Roulette
Live Dealer
Baccarat
Features
Great selection of slots
High-quality live dealer games
Excellent welcome bonus
Crypto-friendly

Ignition Casino
Bonus Offer:
$3,000 Welcome Bonus
More Info
Available Games
Slots
Blackjack
Roulette
Live Dealer
Baccarat
Features
300+ games
Crypto-friendly casino
Live dealer jackpot
Bonus galore for different verticals

Cafe Casino
Bonus Offer:
350% up to $2500
More Info
Available Games
Slots
Blackjack
Roulette
Live Dealer
Baccarat
Features
Accepts cryptocurrencies
Generous welcome bonus
Loyalty program
Kahnawake Licence
41

casinos found based on your search.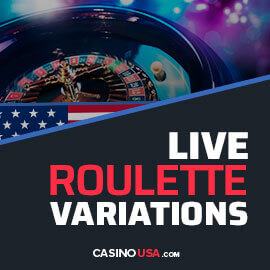 Live roulette variants are available from a number of prominent providers, such as Playtech, NetEnt, and Microgaming. However, Evolution Gaming is the most dominant company in the live dealer niche.
Nevertheless, each provider offers nothing less than seamless streaming from professional studios, excellent UI, well-trained dealers you can communicate with in real-time, and impeccable video and audio. 
Most Popular Live Roulette Versions
There are more roulette variations that you can shake a stick at. Each variant is unique and has its own entertainment value. It's also worth noting that betting ranges and house edge may slightly differ, depending on the gambling platform you play at and the game's provider. We have singled out the most popular live dealer games for your convenience. 
European Live Roulette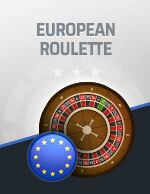 Before moving on to spin-offs, it is best to start with the basics. Acclaimed game suppliers, such as:
Evolution Gaming
Microgaming
Playtech
NetEnt
have developed live versions of this roulette classic, each with a distinctive playing interface and features. Furthermore, almost every casino offers it.
Regardless of the developer, this game has 37 numbers, 36 regular ones, and a single zero. Due to the single zero, it is more lucrative than American roulette and has a house edge of 2.7%.
You can place inside and outside bets, with a maximum win of 35:1 for straight up bets. The betting range varies, but it usually caters to all budgets. For instance, in Evolution's European Roulette, it is $0.5–$2,000.
American Live Roulette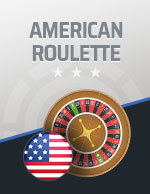 Despite its unfavorable odds, live American roulette is one of the most popular roulette variations, which you can find on almost every gambling platform.
It follows the same rules and has the same bet types as European roulette but adds a five-bet feature (you can cover five betting fields with one chip — 0, 00, 1, 2, and 3). However, a key difference is that the wheel contains an additional double-zero pocket, allowing for more betting combinations.
So, there are 38 numbers — 36 regular ones, one zero, and one double zero. This double zero nearly doubles the house edge to a staggering 5.26%.
Evolution Gaming has its live version of this game, with a $1–$5,000 wagering range.
French Live Roulette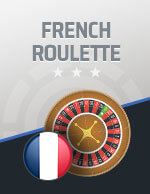 Live French roulette uses the European roulette wheel and, thus, has 37 numbers (36 + one single zero). The main differences are the French names of the main bets and the table layout. Compared to other variations, French roulette has the best odds. It has a house edge of 2.70%, which can be reduced to 1.3% thanks to the La Partage rule on even money bets.
You can get half of your stake back with this bet in play, provided the ball lands on zero. This is why many players are drawn to French roulette. Another distinctive feature of French roulette is the En Prison, which freezes your initial stake if the ball hits the zero slot. If you win on your next spin, you get your money back, but if you don't, you lose the entire bet.
Playtech's French Roulette has a $1–$5,000 betting range that caters to all budgets. Unfortunately, casinos avoid offering this game because the La Partage rule favors players.
Other Popular Live Roulette Variations
Aside from these three classic roulette variations, there are many roulette spin-offs. Here are the most-played ones:
Multi-Wheel Roulette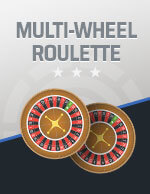 Microgaming released this roulette title in 2011. It plays on eight wheels simultaneously, all with one zero pocket.
You can choose which wheels are active during every spin and place the same wager on them. But you cannot bet on each wheel individually because there is only one table.
This roulette variant offers the bet types and rules of European roulette, along with its favorable house edge of 2.7%. And its betting limits range from $1 to $5,000.
Playtech has developed its version of this game, but it features six wheels, while IGT's has three.
Speed Roulette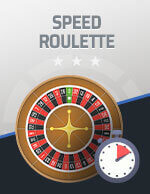 This high-speed and dynamic live roulette title comes from Playtech. The game's name tells players what to expect — super speed betting rounds (approximately 20–25 seconds).
It is a single-zero roulette game, perfect for those who don't want to wait too long to place their bets. Players only have 11 seconds to place and confirm their wagers before the dealer closes the betting window and spins the wheel. They can place bets for the next round while the ball spins, eliminating so-called dead time.
Evolution Gaming and NetEnt have also developed their iterations for this game.
The Playtech variant has a $1–$5,000 betting range and a 2.70% house edge. The maximum win information is not available.
Immersive Roulette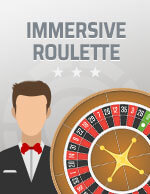 Evolution Gaming was the first to incorporate the cinematic approach into a live dealer game. It released Immersive Roulette in 2013, with multiple cameras closely monitoring every dealer's move.
This immersive element simulates the experience of real-life play. But aside from this, the game is a standard European variation at its core. It supports the standard:
Inside
Outside
Neighbor
Call bets
Furthermore, the game boasts a house edge of 2.70%, with bets ranging from $0.50 to $5,000. The win for straight up bets is 35:1. Playtech also released its take on this game — Prestige Roulette.
Double Ball Roulette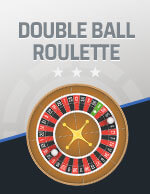 This is another fan-favorite live roulette variant that Evolution Gaming launched in 2016. Compared to other variations, this one is exclusive to this software developer, so you won't find it offered by any other software company.
As its name suggests, it uses two balls instead of one and delivers two winning numbers on the same spin. You will win an outside bet only if both balls end up on the same number. However, to win an inside bet, only one of the balls must land on the number you picked.
The maximum payout is 1300:1, provided both balls land in the pocket you chose for your straight bet. Aside from the inside and outside bets, there are two additional gold bets.
Double Ball Roulette has a 2.7% house edge and a $1–$5,000 betting range.
Lightning Roulette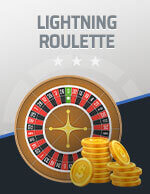 Evolution Gaming went the extra mile in 2018 when it launched an enriched version of standard roulette. Its Lightning Roulette was the first live roulette game that gave players a chance to win multiplied payouts on straight-up bets.
The title features five randomly-generated numbers selected in each round. Predicting them correctly will multiply their payouts between 50:1 and 500:1. However, it only pays 29:1 on straight-up bets.
The wagering limits range from $0.2 to $2,000, and the house edge is 2.7%.
Which Live Dealer Roulette Should You Play
It all comes down to your preference, budget, and what experience you want from a roulette game. Immersive Roulette provides an authentic roulette experience, while Lightning Roulette offers a chance to multiply your winnings up to 500x. 
However, French roulette is the kindest to players with its low house edge and high chances of winning your bet. Unfortunately, many online casinos don't offer this variation as it is not very profitable for the house. But if you are stuck between American and European roulette, it is better to choose the European version. The main difference lies in their house edge. European roulette has a house edge of 2.70%, significantly lower than its American counterpart's 5.26%
Conclusion
In this article, we have presented the most popular live roulette games. However, if you dig deeper, you'll find numerous others. They mostly play on the European or American wheel, but each also brings some unique element to the table (no pun intended).
If you have no experience with live roulette and are hesitant to start playing with real money, many RNG-based roulette games offer a demo mode you can use for practice. 
FAQ
Is live roulette rigged?
No, it isn't. In most cases, live dealer games are streamed to casinos by third-party providers that meet all regulatory requirements.
How is live dealer roulette different from virtual (RNG) roulette?
Virtual roulette games use a random number generator to determine where the ball will land on the wheel. On the contrary, live dealer roulette has a real dealer who spins the wheel in real-time. And the entire gameplay is also streamed in real time.
Can I play live roulette for free?
Unfortunately, you can't. Casinos can't offer free roulette because they have to pay their streaming providers and dealers if they have in-house roulette tables. They will sometimes let you watch live dealer games without participating, but you must place real-money bets to communicate with the players and dealers. That said, you can always use free/demo mode on RNG-based roulette games if you're looking to practice roulette for free.
Can I communicate with the dealer and players?
You can communicate with them only by using the chat feature. You can ask questions and comment on the gameplay, and they can respond to you in real time.
About the Author