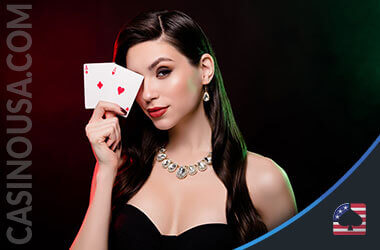 If you've never been to a casino, you might be perplexed when choosing what to wear. Hollywood blockbusters present casinos as venues that require gowns and shiny jewels, but the reality is quite different.
Dress codes take on an entirely different meaning in modern land-based casinos. Daytime casino visits have slightly different dressing codes than nighttime.
So, if you're planning on visiting a casino but have no clue what to wear, you've come to the right place. We'll introduce you to different dress codes, explain each, and give you several examples. That way, you'll avoid the mistake of showing up over or underdressed.
Casino Attire Options
Before getting ready for the casino, you must check whether the venue requires a particular dress code. There are six major categories of casino attire, and they sometimes overlap, so stressing out about your outfit of choice is almost pointless.
Of course, we don't think you'll mistake business formal for black tie, but casual and business casual share several elements. On top of that, most casinos nowadays don't have distinct dress codes, so you'll only have to follow a few tips, and you'll be able to enter and soak in the authentic casino atmosphere.
Casual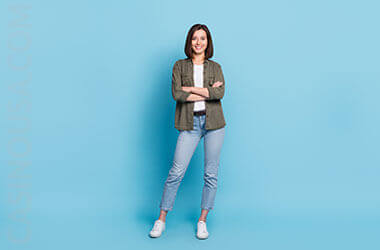 Dressing casual is the lowest level in the casino dress code book, but it's also the most widespread, as most US casinos don't have strict rules regarding clothing.
Casual apparel is typically accepted during the daytime, meaning you can wear anything you normally wear around the town. However, ensure everything is clean and well-pressed before leaving your home.
You can pull off:
Sundresses
Jeans
Khakis
Skirts
While shorts are only acceptable throughout the day. You can also wear:
Some casinos in Nevada also allow slippers.
Business Casual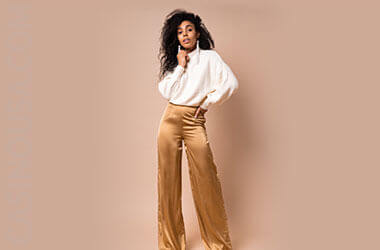 Some people dress business casual without even realizing it. It's a cool combination of white-collar office clothing and chill "casual Friday" apparel. This is right in the middle between looking nice but not going overboard.
You can easily walk into a casino wearing:
Collared shirts
Sweaters
Blouses
Jackets to cover your shoulders
As for the bottoms, you can choose between:
Luckily, you don't have to wear hose or stockings. However, the business casual dress code typically avoids cleavage.
Business Formal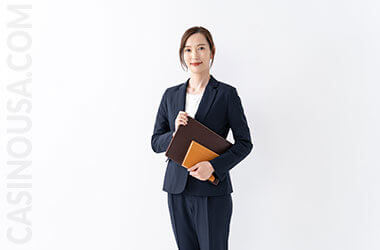 Business formal requires slightly more effort than business casual. If you work in an office, you'll easily find an outfit suitable for the casino. This dress code is perfect for visiting a casino with an unspecified dress code. You'll be able to spend an evening on the casino floor without being uncomfortable.
Business formal attire includes:
Pencil or knee-length skirts with stockings or hoses
Slacks
Jackets
Blazers
Blouses
Discreet jewelry
Semi-Formal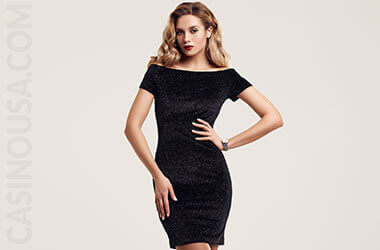 We're kicking it up a notch with semi-formal dressing. This dress code is appropriate during evening hours when the casino doesn't require black or white tie attires. Of course, you can also choose it for the daytime, if you want to avoid wearing jeans and a shirt.
This category gives you plenty of options. You can wear:
Long or short dresses
Skirts
Pair them with strappy sandals, flats, or heels
Your favorite LBD (little black dress) is an excellent choice here
If you go down the semi-formal road, stick to darker shades for the evening and lighter for the day.
Black Tie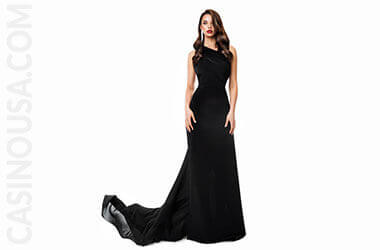 We've all heard about black-tie events where the attendees wear tuxedos and beautiful dresses.
The dress code is reserved for special events after 6 p.m., VIP lounges, or charity events. Although the name refers primarily to menswear, it also limits what women can wear.
If you go to a black-tie event, you'll have to kick it up a notch and opt for a:
Dark or rich-colored floor-length dress
Elegant and appropriate cocktail dresses are also an option
Well-cut pantsuit
As for footwear, go for evening shoes with high heels, as flats are not allowed. Discreet jewelry is preferred.
White Tie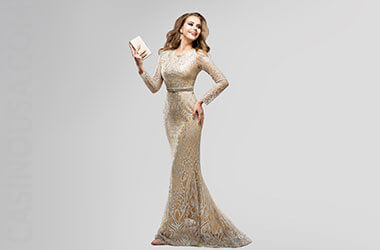 If you've watched any James Bond movie, you'll understand what white-tie means. This dress code represents the highest level of formality.
Today, white-tie dress codes aren't as common — they are usually reserved for royal events, major prize ceremonies, state dinners, and galas. Casinos rarely organize these events, but it can't hurt to know more about the dress code if you ever get a special invitation.
Pull out all the stops and don a:
Floor-length gown or ball gown
Elegant jewelry
Small clutch
Optional extras can include:
Long white gloves
Tiaras
Fur wraps
As for men, simply copy a Bond look, and you won't go wrong.
Casino Outfit Red Flags — What Not to Wear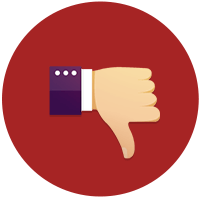 Over the years, the casino dress codes have become more flexible and lenient. Although most US casinos don't enforce a strict dress code, you should follow some general rules when picking a casino outfit.
Here's a list of clothing items you should avoid wearing in any casino:
Don't wear flip-flops or crocs — Even if a casino has a casual dress code, you'll likely stay outside if you wear flip-flops or crocs.
There's no room for clothes with offensive or unpleasant slogans or prints — This rule can apply to your overall dressing style, especially for a casino. If casino staff notices you're wearing clothes with offensive, sexist, racist, or otherwise disparaging remarks, they will ask you to leave.
Leave your see-through tops and shirts at home — There's nothing wrong with high slits or low-cut tops, but wearing see-through clothes is heavily frowned upon in casino venues.
Forget about dirty or torn clothes — The casino won't care if you're wearing Balenciaga, Louis Vuitton, or Miu Miu; if the clothes are ripped or dirty (on purpose or not), you might not go through the doors.
Avoid sneakers — While some casinos might accept trainers or sneakers during the daytime, you should avoid wearing them in the evenings. Most gambling venues require a different dress code at nighttime.
Dress according to the casino type, location, and gambling activities you plan on participating in.
Tips on Dressing for the Casino
We're almost done with our guide on casino dress codes and suggestions. You don't have to be a fashionista or follow every single trend to dress appropriately for a casino. If you still need assistance, here are a few tips to help you dress with success and hit the casino floor:
Check the casino's dress code online — Once you know where you're going, visit the casino's website and see whether it requires a special dress code. In most cases, a casino will prohibit flip-flops and dirty and torn clothes. However, the venue might include a dress code for a certain event, so pay attention to the dates and events

Dress comfortably — American casinos are more flexible than their European counterparts, so as long as you look presentable, you'll be good to go. You don't have to overdress or wear clothes that make you uncomfortable. You can always find comfy attire, even for black-tie events.

Think of jewelry and accessories — There's no need to go overboard with accessories. Even if you're attending a formal event, you can complete your look with discreet earrings and a small purse or clutch to store any essentials.
Conclusion
Modern-day casinos let you express your style without imposing too many limitations. However, you should always plan an outfit based on the venue type and the time of day. As you know by now, daytime events require less formal clothing, while VIP lounges and special celebrations demand more effort and class.
In most cases, you can easily pick something from your wardrobe and enjoy a night out on the casino floor. However, some events will let you go all out and feel like you're in a James Bond movie with glitz and glamor all around.
About the Author