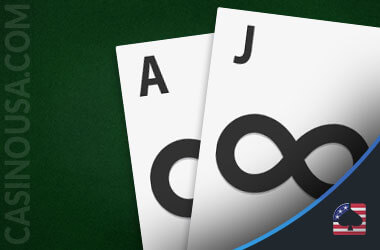 Blackjack has been an unofficial king of all table games for years and with a very good reason. The game's rules are easy to understand and follow, so even absolute beginners can try their luck at it.
This famous card game requires just the perfect mixture of luck and strategy. Due to that, its popularity in online casinos rivals its land-based counterpart to the T.
What's more, suppliers of live dealer streams like Evolution Gaming have been perfecting this game for years, each release better than the previous. Furthermore, as one of the most respected providers on the market, it features a rich library of different blackjack variants such as:
Speed Blackjack
Lightning Blackjack
Free Bet Blackjack
One of its most fascinating blackjack-related releases has got to be Infinite Blackjack. No, this variant isn't a game with no table limits, if that's what you were thinking — but that doesn't make it any less fascinating.
What makes Infinite Blackjack stand out from the crowd is that the game can host an infinite number of players.
If you're intrigued by all of this, continue reading as we delve into the intricacies of this special game of blackjack.
How It Works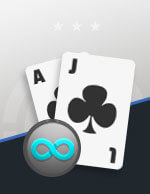 Many players would probably be hesitant to try out a game that can host an unlimited number of players.
While we do admit that the mere claim sounds like a line straight out of a movie, Evolution has managed to pull everything off, and here's how. The game is a mixture of the digital and live dealer experience.
Players cannot catch a glimpse of other games playing out in the background when joining the Infinite Blackjack table as it has its own lobby. Since the game can host many players, the dealers are known to be patient and willing to answer every question. Players can also adjust the volume and look at the table from different angles.
As far as the game itself is concerned, the rules are exactly the same as in any other version of blackjack offered by Evolution Gaming.
The overall layout of the table is simple and user-friendly, so you'll get the hang of it fairly quickly, even if you've never had the chance to play live blackjack before.
Everything else is pretty standard — there are four side bets, a blackjack win will payout at 3:2, and the dealer must hit on 17. In the beginning, the croupier will deal themselves two cards, one facing up and the other facing down. Then, all players are dealt two communal digital cards, after which they can decide if they want to continue (hit), stand, or double down.
What makes Infinite Blackjack unique is that you can play at any time because you are really at the table by yourself, regardless of the number of players online at that moment. The fact that there might be hundreds or thousands of people playing at the same time won't impact you at all, and that's where the beauty of this Evolution's release lies.
Side Bets
Side bets are additional bets that you can place while playing blackjack. Most of them boil down to predicting which cards players or dealers have. These bets are placed before cards are dealt. This part of blackjack relies on sheer luck, so very few strategies can help you. 
We've already mentioned there are four basic side bets in Infinite Blackjack. If you've ever had the chance to play or observe a game of blackjack, you're probably familiar with all of them.
Here's what they are and how they work:
Any Pair
As the name implies, this bet will pay if the first two cards dealt to a player are a pair.
Any pair, like a pair of 7s, for instance, will pay 8:1.
Get a suited pair, like two kings of diamonds, and you'll win 25:1.
21+3
This side bet is perfect for all poker fans, as it relies on three-card poker.
Players bet on whether the dealer's face-up card and their two initial cards will make a wanted combination (three-card poker hands).
Flush — There should be three cards in the same suit.
Straight — The combination is three cards of consecutive value (for example, 2, 3, 4).
Three of a kind — If you want to win, you should hope for three cards of the same value/face card.
Straight flush — Here, you should have three cards of the same suit and consecutive values.
Suited three of a kind — This is the hardest combination to get, as it implies three cards of the same denomination from the same suit.
Hot 3
In this side bet, you'll get the chance to use the dealer's face-up card as a part of your hand. If the combination amounts to 19, 20, or 21, you're the winner.
Bust It
For our final standard side bet, you are essentially betting against the dealer.
The more cards the dealer has when they bust, the better for you. For instance, if they lose with five cards, you'll win 5:1. But, if the dealer loses with 8 or more cards, you'll win 250:1.
Six Card Charlie Rule
One thing that makes Infinite Blackjack special is the Six Card Charlie rule. While this isn't technically a side bet as it automatically applies to each hand, it can help you win. Namely, if you have a six-card hand under 21, you get a 2:1 payout.
Strategies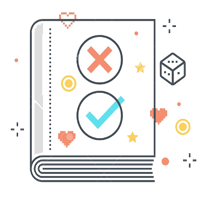 The strategies we'll mention are applicable to any live blackjack game, so pay attention.
Rather than rushing into the game straight away, sit one out instead. This way, you'll get the extra time to study the gameplay, the side bets, and the atmosphere, which can only help you in the long run.
Don't be afraid to consult the paytable if necessary. 
Feel free to sneak a look or two at your cheat sheet. While you can see the dealer, it doesn't mean they can see you, too. A basic strategy cheat sheet will do wonders for you, especially with beginners. They can predict all plausible scenarios and even help you bring down the house edge.
Finally, don't be overwhelmed by the fact that Infinite Blackjack can host a very large number of players. Concentrate on yourself and don't let the others distract you from doing your best.
About the Author