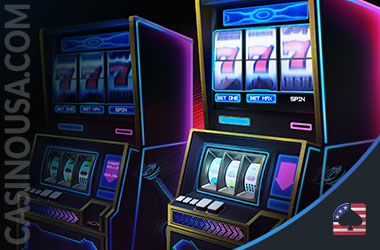 Slot games are the most popular type of casino game on the planet, whether online or offline. Consequently, many casino fans love participating in slot tournaments that tend to bring more significant rewards to the winner and the first 10, 20, or even 50 spots on the table. 
They represent an exciting way to enjoy slots even more and to have fun with other players, and you can play them in many land-based casinos. 
In this piece, we wanted to take a closer look at how they work in physical locations and how similar they are to online slot tournaments that are more widely known by the iGaming community. 
Basic Rules of Land-Based Slot Tournaments
The basic premise behind slot tournaments is the same in both online and offline casinos. The casino organizes a tournament where players play specific slot games to earn hefty rewards.
After a specific period, the biggest winners are ranked and receive certain prizes, usually money.
And that's it. It's simple, exciting, and potentially very lucrative if you're lucky enough.
Naturally, you should still know several specifics about brick-and-mortar casino slot tournaments:
Tournaments are typically organized at particular times and for a specific period. The casino releases the information in advance, so players can register to participate.
On the tournament day, the casino floor with slot machines is sectioned off and reserved for the tournament.
Participants receive equal credit to play in specific slot machines.
The casino hires people to keep track of the games and how much each specific participant has won.
The player with the biggest winnings comes out on top in the tournament. Sometimes, players are ranked, and the top-ranked players get specific predetermined prizes.
Unlike online slot tournaments, the ones in land-based casinos are huge social events with a lot more organization. Participants can enjoy both the games and the company of others, making these tournaments more enjoyable and compelling.
How Much Do Land-Based Casino Slot Tournaments Cost?
A typical slot tournament in a brick-and-mortar gambling establishment has a specific buy-in. In other words, you have to pay a participation fee if you want to join in on the fun.
The buy-in is similar to what players pay to participate in poker tournaments. Still, the amount is usually smaller as these tournaments are intended for casual gamblers, not pro poker players.
The exact price varies based on the scope of the tournament and what the casino itself decides. The amount can be only a couple of dollars, but it can also be as high as $100.
A specific percentage of each fee will go towards the prize pool later awarded to the winner or winners. Naturally, the rest is what the casino will keep for itself for organizing the tournament.
This system is also great for gamblers who want to limit themselves to the amount they'll spend. You can simply decide to gamble only in the tournament, and that's it. That way, no matter how well you fare, you'll only spend a specific predetermined amount.
It's worth mentioning that, occasionally, some casinos decide to run free slot tournaments where everyone can participate, but the prizes are usually lower than in buy-in tournaments. These free tournaments can also be organized only for VIP clients and specific loyal patrons.
Types of Slots Used in Land-Based Casino Tournaments
Many brick-and-mortar casinos change their slots for each tournament, but most older casinos stick to specific slot machines for all the tournaments they organize.
For those looking for modern slots, you're unfortunately out of luck in most cases. Land-based casinos don't stray away from simple 3-reel slot games. You'll rarely get to play modern slot games that you find in online casinos, only classic slots with simple gameplay elements.
However, many consider these to be the charm of land-based casinos, so if you're a fan of classic slots, you'll undoubtedly love participating in these tournaments.
It's worth noting that some modern casinos also started experimenting with modern video slots, so you might find a land-based slot tournament with a modern slot display.
Typical Slot Tournament Prizes
Online slot tournaments typically offer cash prizes and free spins to the biggest winners, but land-based casinos can be much more versatile.
Even though most tournaments in brick-and-mortar casinos offer regular prize pools with specific cash prizes, some might go further and offer something more substantial.
It's not uncommon for a casino to offer a car as a prize or a holiday for two.  Some casinos even tend to give lower-ranked players free credit to play in slot machines outside of the tournaments.
Game Strategies for Slot Machine Players
Unfortunately, there isn't a strategy you can use in slot tournaments. That's because all the games you get to play are regular slots, meaning skills or strategies cannot help you. All slot games are based on luck, so winning any prize is entirely random and decided by the ubiquitous random number generator (RNG) technology.
In other words, you can't beat a slot game and can only win if you're lucky enough. However, as these tournaments are still time-limited, you can try to spin the reels as fast as possible without taking unnecessary breaks. This is all in an effort to get as many chances to win as possible.
Furthermore, as you'll likely use the casino credits, you should use the max bet feature all the time, so every spin you win could yield you the biggest payout it can.
Re-Buys at Land-Based Casino Slot Tournaments
Certain land-based casinos have something called a re-buy. This feature is allowed in their slot tournaments and lets you pay a specific re-buy fee to start again from the beginning of the tournament.
The re-buy fee is usually the same as the entry fee, and the feature eliminates your initial score in the tournament so that you can start better off and possibly earn more points.
Bottom Line
Slot tournaments in brick-and-mortar casinos may not be as fluid and fast as the ones you get in online casinos, but they are certainly a lot more fun. They let you hang out with other players and make the whole competing part much more enjoyable, even though you're playing luck-based games.
On top of that, the prizes are often excellent, and you always have the chance to get invited to a more exclusive tournament by the casino, especially if you become its VIP player.
You should try it out whenever you find an accessible land-based casino slot tournament. But in the meantime, you can always enjoy online slot tournaments in some of today's top US online casinos.
About the Author