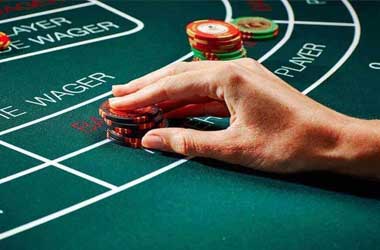 Baccarat is a fairly popular casino card game that has been around for hundreds of years. The true origins of baccarat are disputed, but a majority of historians believe that baccarat originated in the 19th century. However, some argue that baccarat is an older game that dates back to the 15th century in France.
History aside, baccarat is one of the most popular card games among American players, with a strong presence in popular culture.
With that in mind, are you familiar with the basic rules of baccarat? Are there any strategies to help you win? To find an answer to these questions and more, we suggest you keep reading.
I've done my research and gathered all of the useful information regarding baccarat that will help both newcomers and experienced players maximize their winnings. Take a look.
How to Play Baccarat
Whether you're playing baccarat in one of the best Las Vegas casinos or online anywhere in the world, the goal is to guess which hand will have a total value that is closest to nine.
Similarly, there are three possible outcomes:
The player wins
The banker (dealer) wins
There is a tie
On that note, the player can place three bets during a baccarat coup (round). In fact, you can place a bet on the player's side, the banker's side, or for a tie.
Cards two through nine stand for their original value, while face cards and ten are worth zero. The ace card counts as one.
Once you have staked, the game starts with the dealer handing two cards face up to both the player and the banker. Immediately, the hand with the total number closest to nine wins.
If you have placed a bet on the player's hand being closest to nine, your initial bet will simply be doubled. Yet, if you've placed a bet on the banker's hand and they're closest to nine, it will pay 95% of your initial wager.
However, if the cards are greater than nine, you will need to add them together and drop the first digit to get the value.
What does that mean? Well, if the cards nine and six have been dealt, those numbers add up to 15. As a result, the first figure will need to be disregarded, leading to the game value of five.
Note that house rules vary, so they will dictate whether the player or the bank should receive the third card as well. The house rules that allow for a third card draw typically don't approve of any more cards to be drawn.
Caesars Entertainment
Other Important Rules
Apart from the basic baccarat rules that will enable you to play the game, there are a few other rules that you need to know if you want to succeed. Take a look below:
Both the player and the banker stand if they are both dealt a total of eight or nine.
If the player has a total of five or less, they will receive another card. Otherwise, the player will stand.
When the player stands, the banker hits on a total of five or less.
Whether the player is betting on the player or the bank hand, the payout is 1:1. Still, note that there is a 5% commission.
The tie betting option pays out 8:1, making those the highest odds for a potential win.
Each baccarat table typically features sheets that help you keep track of your score. That means you will not have to lose time on calculating everything on your own.
Baccarat Strategies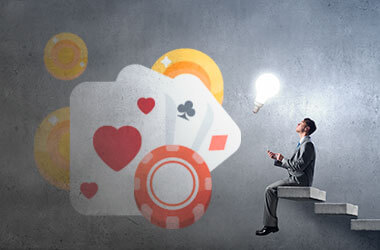 Since baccarat is one of the easiest card games to master, there aren't plenty of strategies that you can rely on.
However, it won't take up a lot of your time to go through these simple ones and try to apply them next time you're playing.
One-sided Strategy
The most fundamental baccarat strategy is called a one-sided strategy. If applied correctly, it will significantly help improve your odds of winning.
What you need to do is start betting at the beginning of a new baccarat coup. Then, when the outcome goes against you, you ought to stand your ground by prompting a stop loss.
Trend Switch Combat Strategy
Another strategy you can employ is the Trend Switch Combat baccarat strategy. Basically, you will have to switch between trends. If you're not familiar with baccarat trends, all you need to know is that they are patterns that emerge when someone is playing this game.
To apply the Trend Switch Combat strategy, you need to start off by flat betting. Once you've lost two consecutive bets by relying on one trend, instead of stopping and waiting for a trigger, simply switch to another trend.
The trends you can use include the "ZigZag Zone" and "Streaky Bankers and Players".
The first one suggests that each outcome of a baccarat round is zigzagged.
The second one suggests that the outcomes will mostly focus on one side (either the player or the banker).
Breaking the Doubles
You can also combine this strategy with the one called Breaking the Doubles. Here, you could profit from both trends while staying in control.
Note that you need to keep your stop loss at around 12, while your target should be 8+.
The odds of reaching your target are around 65%, while the odds of not reaching your target but profiting are around 85%.
Doubles Strategy
If you only want to apply the Doubles strategy without combining it with another trend, you can do that as well. To employ this strategy, you need to do the opposite.
If the zigzagged pattern persists, bet with it.
If you lose once you've doubled down, double down the wager one more time.
If you turn out to be the fifth player, you win and break the double.
Still, keep in mind that the best way to maximize your winnings is to practice.
Why Opt for Baccarat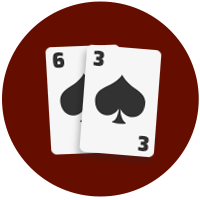 As you can see, baccarat is a relatively simple card game that can be mastered quite easily.
Whether you're a newcomer to the gambling world or an experienced player, baccarat is the perfect card game, as it offers both low- and high-stakes formats.
Basically, it's up to you to decide how much you're willing to risk when playing this game.
The house edge also needs to be mentioned, as baccarat offers some of the best winning odds to inexperienced players. Namely, the bank hand will statistically win 45.87% and lose 44.63% of all hands, whereas the ties will occur 9.51% of the time. When it comes to the player, the reverse is true. Therefore, backing the bank hand offers a slight advantage against the house.
All in all, if you wager on the player hand, the house edge will be 1.24%. On the other hand, it will decline to 1.01% when you choose to back the bank hand.
Although the minimal difference might seem negligible, this house edge is still favorable when compared to blackjack or roulette, for instance.
Final Thoughts
Although baccarat is one of the easiest card games to learn and master, you shouldn't take it for granted.
Go over all the rules and strategies that I've mentioned above and try to apply them to your next baccarat game. Also, don't forget about bankroll management, as it is easy to get carried away and forget about keeping an eye on your spendings.
If you're new to the game, I recommend practicing your baccarat skills at a online casino where you can play for free before you try your hand with real money stakes or set foot in a land-based casino. After all, practice makes perfect.
About the Author