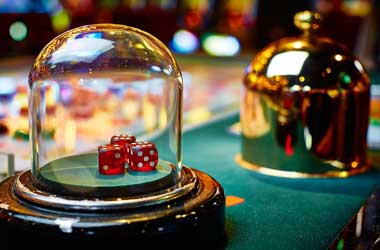 Sic Bo is one of the most popular games of Chinese origin, which shouldn't come as a surprise, as it is widely represented and played in casinos in Macau.
Even though you may not have the opportunity to visit this peninsula in China, it's still worth knowing how to play this game of chance, as you can find Sic Bo in the majority of American brick-and-mortar casinos as well.
Or, if you prefer their online counterparts, you'll be happy to learn you can play this fun game on numerous websites too.
Sic Bo rules aren't as difficult to learn as it might seem at first. Still, there are a few things that you should note before you decide to start playing this one-of-a-kind game. That is why I've prepared some tips that will surely help you accomplish your Sic Bo goals.
So, read on to see what you can expect from one of the oldest dice-based casino games.
More About Sic Bo
This ancient Chinese game is also known as:
Dai Siu
Dai Sai
Tai Sai
Hi-Lo
Interestingly, Sic Bo's literal translation is precious dice, while Dai Sai and Dai Sui can be translated as big or small.
Aside from being popular in Macau, the game is often played in the Philippines and other parts of China as well.
When talking about the rest of the world, Sic Bo has found its audience in the US, and, since 2002, the game has also been present in licensed brick-and-mortar casinos in the United Kingdom.
Like many other traditional dice games such as Craps, Sic Bo is a game based on luck. Nevertheless, that doesn't mean there's nothing you can do to improve your chances at this three-dice game.
Still, before I share some potential outcome-changing moves with you, let's first learn how to play the game. Afterward, you will see which betting options might help you along the way.
Basic Sic Bo Rules
Sic Bo is not a complicated game to master, but there are some rules that you should master, as the game moves at a lightning pace.
Similarly to craps, Sic Bo is also played on a table specifically intended for it.
Take a look at the image below to see the layout of a classic Sic Bo table.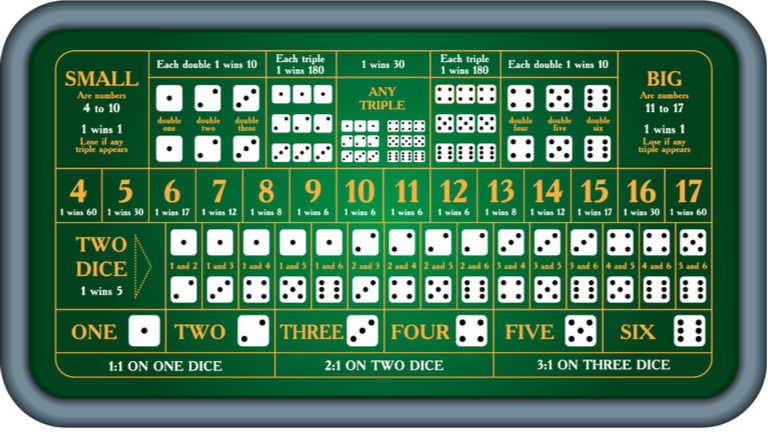 How a Round of Sic Bo is Played
Before bets are placed, the dice are kept in a container or Sic Bo cage that the dealer holds.
Once the players have made their bets the dealer shakes the cage.
The dice then rolls out across the table to show the combination made by three dice to the player.
Note that the players are not allowed to touch the dice.
When you play Sic Bo at an online casino, you can expect to see virtual dice. No need to worry, though — the result is completely randomized, thanks to the implementation of Random Number Generator (RNG).
As you can see, Sic Bo rules are quite straightforward. Of course, you can expect the game to get even more interesting once you start betting.
Sic Bo Betting Strategy & Options
When it comes to wagering, players have a variety of options, which is probably why Sic Bo's popularity hasn't died down for centuries. Take a look at some of the most common betting options below:
Single Numbers
When betting on a single number, you have the option of wagering on any number from 1 to 6. There are three possible outcomes of this bet. For instance, if one die shows the number you've placed, the payout is 1:1.
On the other hand, if two dice show the number, the payout is 2:1, and with three dice showing the number, the payout is 3:1. The average house edge in this case is 7.9%, making it an excellent beginner bet.
Sic Bo Single Bet Payout Odds
One dice bet, payout is 1:1
Two dice bet, payout is 2:1
Three dice bet, payout is 3:1
Triple Bets
With triples, all three dice need to come up with the same number. This may sound too difficult to predict, but you can avoid specifying a number, which means you'll win if all three dice roll out the same number, regardless of what it is.
However, if you do specify a number — a triple four, for example — you'll win only if all three dice roll out fours.
The payouts differ, but you'll find that the most common payout ratio for the first scenario is 30:1, while it is 150:1 for the second one.
Bear in mind that there is also a double bet, which you can win if two out of the three dice come up with the same number. The payout ratio is 8:1.
Sic Bo Triple Bet Payout Odds
Triple bet can be three of the same numbers or three spefic numbers such as 4,5,6
Triple of the same number payouts 30:1
Triple specific numbers is 150:1
Double bets with the same number payout is 8:1
Even Money Bets
There are two even money bets that you can wager:
One is Small/Big or High/Low
The other is Odd/Even
The payout for both of these bets is 1:1, and both of them lose against a triple.
In the small or low bet, you place a wager on a total of three dice being from 4 to 10, while in the big or high bet, you're betting on a total of three dice being from 11 to 17.
Similarly, with the odd bet, you're wagering that the total sum of the dice will be an odd number. On the other hand, if you put your hopes on an even bet, then the total sum needs to be an even number.
Bear in mind that there are other betting options as well, such as:
Total sum bets
Three dice total
Combination bets
However, the three bets mentioned above are the most common, so I recommend sticking with those. Likewise, note that most online and electronic Sic Bo games have lower payouts due to a higher house edge, so your winnings might not be as high as stated here.
Sic Bo Tips
Although the outcome of Sic Bo depends mostly on luck, I've noticed that there are some things that can help you maximize your winnings when playing this game.
If you decide to place a specific triple bet, the best thing you can do is lower your stakes.
If you're going to take a risk with the triple bet, it's smart to limit your expenses.
You will still get a high payout from the triple bet since the payout ratio is the highest out of all Sic Bo bets.
Remember that Sic Bo is a game of chance, which is why you shouldn't rely on any of the strategies entirely.
The best advice is to play in moderation, and your Sic Bo game will still be exciting, interesting, and, hopefully, lucrative.
Final Thoughts
Even though Sic Bo rules are quite simple, the game is still incredibly stimulating because of its many betting options. Furthermore, there's no waiting with Sic Bo — the winners are determined immediately after the dice roll.
So, whether you're a beginner or a seasoned player, there's no doubt this fun casino game will soon turn out to be one of your favorites.
About the Author