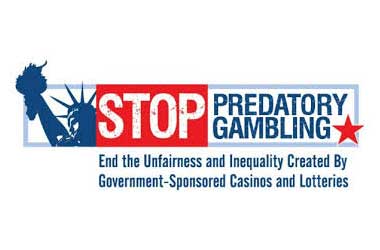 Anti-gambling group Stop Predatory Gambling (SPG) announced their plans earlier this week to conduct a campaign pushing for widespread suspensions of lotteries for a period of at least 30 days after Americans receive their stimulus payments.
The payments were designed to ease financial pain during the COVID-19 pandemic. Lottery operations include live jackpot drawings, scratch-off instant win tickets, and video lotteries. SPG's national director Les Bernal warned that the stimulus checks may be used by desperate Americans on lottery products, pushing them further into financial ruin.
According to Bernal, it is irresponsible for state lotteries to continue their operations in spite of the massive economic downturn faced by many citizens—as financial worries rise, they may look for instant solutions that will, in all likelihood, result in financial losses.
The behavioral economist David Just stated that unemployed people often look to lottery products to help raise them out of poverty. It hardly matters that the odds are astronomically against them winning—a Powerball grand prize has a 1 in 292,201,338 odds of happening, for example.
Lottery products have taken a hit on sales due to the pandemic, but they are still easily available for many. Gas stations and convenience stores are treated as essential, where customers can easily purchase scratch-off tickets. Six states are still conducting online lottery ticket purchases.
Bernal stated that using stimulus funds on lottery products endangers the purpose of the stimulus payments. An estimated 22 million Americans have sought unemployment benefits due to the COVID-19 shutdowns enacted last month. The federal government has responded by sending checks for up to $1,200 to each adult to help them during this trying time.
States Likely to Resist Giving Up Lottery Revenues
Industry observers noted that today's economic climate is so dire that it may be impossible to convince state lawmakers to forgo the revenues associated with lotteries. Maryland State Lottery & Gaming Control Agency's director Gordon Medenica —who has also worked for New Jersey's and New York's lotteries rejected the SPG's call, characterizing their campaign as an agenda-driven initiative with no real benefits.
According to Medenica, lotteries serve a useful role in the state's budgets, often earmarked for social programs designed to help the needy. For instance, Maryland received $593 million from the lottery in the 2019 fiscal year, which it allocated toward its general fund. Other states specify where lottery funds are spent.
Medenica believes that Maryland's suspension of lottery ads should be enough for the SPG, which has resulted in a 30% decrease of sales derived from convenience stores and gas stations.
About the Author