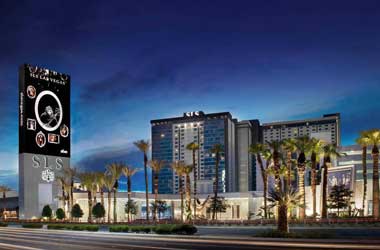 The SLS Las Vegas casino property located on the Las Vegas Strip has been acquired by Meruelo Group, which owns the Reno-based gaming facility Grand Sierra Resort Hotel & Casino.
The property has been sold by owner Stockbridge Capital Partners for an undisclosed deal price. The deal is expected to be finalized in the third quarter of this year after receiving necessary regulatory approvals.
In a statement Alex Meruelo Meruelo Group Chairman and CEO said,
This is a once in a lifetime opportunity to acquire a premier gaming property on the world famous Las Vegas Strip. We look forward to bringing our experience and successful track record as a casino/hotel owner, and to leverage our Los Angeles-based media and entertainment properties, to position the SLS as one of the most desired destinations in Las Vegas.
SLS Las Vegas, formerly known as the Sahara, was reopened in 2014 after an extensive upgrade estimated to be around $415 million. The resort has three towers and consists of 1,327 rooms along with a 50,000-square- foot casino floor that features 600 slot machines plus 60 table games. The legendary Sahara initially opened in 1952 and was the sixth casino to do so on the Strip.
Initially after its reopening, the property struggled to take off, in part due to its location on the extreme north end of the Strip. Furthermore SLS Las Vegas part-owner Sam Nazarian had to appear before the Gaming Commission apologizing for his misdeeds which involved dealing with a convicted felon regarding an extortion bid. Nazarian sold his 10 percent stake to majority partner Stockbridge in October 2015.
Subsequently, SLS Las Vegas signed up with Starwood Hotels & Resorts Worldwide to convert one of its towers into a luxury hotel. The newly branded 289-room W Las Vegas hotel opened in December 2016 and is being managed by Marriott International. The rest of the 1,327 guest rooms are managed as a Tribute Portfolio Resort, branded under a franchise agreement.
Meruelo Group is a minority owned holding company that has operations across a variety of industries including construction, media, food services and real estate, employing over 10,000 people. Meruelo spokesman Andrew Diss said that no problems were expected in the clearing of the deal, noting that the group already held a non-restricted license.
The group acquired its only gaming property Grand Sierra in 2011. The Reno property has over 1,990 hotel rooms as well as a 100,000-square- foot casino.
About the Author