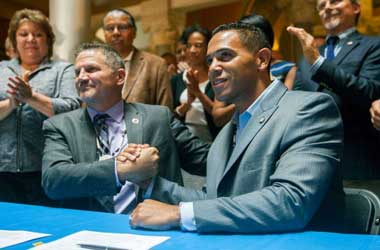 An official from the Trump administration has assured the Connecticut tribes seeking to build a third casino in the state that the opinion issued by the Department of the Interior last year was still valid.
The letter stated that the new casino will not jeopardize the existing state compact with the tribes guaranteeing it 25percent of the slot revenue.
James E. Cason, the acting deputy secretary of the Interior, a department comprising the Bureau of Indian Affairs has sent a letter earlier this week stating that the new administration headed by President Donald Trump supported the view provided in the technical assistance letter sent last year.
The Mashantucket Pequot and Mohegan tribal nations are using the letter to address concerns among state lawmakers that their plan to build a casino in East Windsor would jeopardize the $260 million received by the state from casinos towards revenue-sharing.
WWLP-22News
The letter for the casino was received by Kevin Brown, the chairman of the Mohegan Tribal Nation and released by MMCT, the joint venture firm building the casino to counter competition from a competing casino MGM Springfield.
The tribes operate separately two full-scale casinos which are the Mohegan Sun and Foxwoods Resorts, on tribal lands in the state. While the letter is not legally valid, it has clarified that the stance of the department on the matter. Cason noted that the Bureau of Indian Affairs usually respected existing compacts between tribes and states, as they both relied on it for revenue.
MGM Resorts which has been campaigning fiercely against the casino proposal dismissed the letter calling it a hoax. Uri Clinton, a senior vice president and legal counsel at MGM Resorts International pointed out that the letter itself has said that any amendments to a compact are open to court litigation under the Administrative Procedures Act.
The possibility of the proposal facing legal opposition is one of the concerns raised by Attorney General George Jepsen who had also sent out a cautionary warning about the impact of the new casino on state's revenue. In his view, a bill that approves the state's first commercial casino without any competitive bidding process is likely to be challenged in court.
Nonetheless, the tribal leaders celebrated the renewed support from BIA. In a statement Rodney Butler, chairman of the Mashantucket Pequot Tribal Nation said,
Receiving this confirmation from the BIA provides a huge boost for our project. The choice now is simple. We can do nothing, and lose thousands of jobs and millions in tax revenue. Or we can compete, and do right by the hard-working families in our state.
About the Author