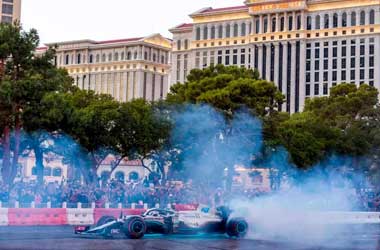 Summary:
Race Week features prizes from Caesars Entertainment for employees.
Race to the Finish giveaway is featuring $250,000 in prizes.
Employees can win cash or a new Tesla.
Casino operators in Nevada hope to see their employees show up this weekend as it will be a busy time due to the Formula One Las Vegas Grand Prix. Several casinos are offering prize programs or incentives to ensure that the weekend runs smoothly.
Caesars Entertainment is offering the "Race to the Finish" giveaway for its employees, offering $250,000 in prizes.
Race to the Finish
Due to the Formula One race, the Venetian will be offering cash prizes and comp awards for its workers who attend the shifts this week. The program offers cash prizes, with employees able to earn $500 to $10,000. A grand prize is also on the table which includes a new Tesla Model 3. If the winner does not want to accept the car, they can opt for $25,000.
Venetian hourly workers are eligible for prizes if they work each schedule or on-call shift from Sunday night to Monday, November 20. It's a short time frame and allows the employees to earn more just for working a little extra.
The Venetian said in a statement that it is important for the casino to show gratitude and appreciation for the Team Members after a year of hard work, commitment, flexibility, and patience. The casino wanted the prizes to be over the top and reflect the same excitement guests feel when visiting the resort.
Another program is being offered to Caesars workers that features tens of thousands in prizes. This includes dining and spa visits for Caesars properties. Prizes will be provided for anyone who qualifies during the work period.
Formula One Race
The Las Vegas Grand Prix is set to take place on November 19, and this entire week has been a busy one leading up to the race weekend. The city of Las Vegas expects an influx of visitors who will attend the race and enjoy gaming, dining, and entertainment.
The race will mean big business for the casinos, and it was almost a ruined weekend due to the impending strike among major operators like MGM, Caesars, and Wynn. Thankfully, the casinos could agree, and a strike was avoided.
The strike could have been avoided simply because the race weekend was coming up, and the casinos did not want to deal with a loss of employees due to a strike. Either way, the race weekend is coming up, and we should see major action in Las Vegas during this busy time period!
About the Author