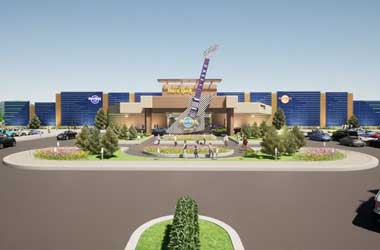 Summary
A temporary casino may remain open through November 2024.
The operator has plans to open late August/early September.
The new venue will include 1,300 electronic games with 44 live tables.
It won't be much longer before Illinois has a new gaming venue in Rockford. Hard Rock International announced yesterday that its future casino should open by August or September 2024.
During a Illinois Gaming Board meeting, the company provided photographs of the property renderings, showing exactly what the 180,000 square foot site would look like.
A Glimpse at the New Casino
The images show a large front entrance with a 90-foot tall guitar taking center stage. The guitar is supposed to be a replica of Rick Nielson's checkerboard guitar. Inside the casino, the rock 'n' roll theme continues with food and beverage options dotted throughout the property.
The renderings were provided soon after the Board which approved the casino in 2021 announced that the operators' temporary casino can remain open through early November 2024. The temporary casino is known as Opening Act and it has provided services to players as the permanent structure is under construction.
In a news release, Geno Iafrate, the Hard Rock Rockford President, stated that anyone who drives down I-90 can see the progress of the construction and feel the excitement as the project gets closer to fruition. Hard Rock plans to offer a premium destination that will be worth the wait.
Full Details of the Property
Once the new casino game floor is complete, players will have access to many different gaming options. There will be 1,300 electronic games plus 44 live dealer tables, six live poker gaming tables and a sportsbook. For dining, players can head to the Hard Rock Café, a staple within a Hard Rock branded venue, or enjoy other restaurant and lounge options.
A 1,600-seat entertainment venue is also planned, giving visitors a chance to attend various performances by all types of artists. Hard Rock Live is sure to be a hit with guests on the property. Overall, the images of the new venue look stunning and the larger-than-life guitar out front will definitely be an eye-catcher!
Hard Rock International broke ground on the new casino last year once it was approved to do so. The governor signed legislation to expand gambling in the state in July 2019, so it has taken some time to get the ball rolling on the new venue. The state will be adding six new casinos, with Hard Rock being one of the first to offer a brand new space for gaming.
Players can find the temporary casino of the brand at 610 North Bell School Road and it will remain open until after the permanent venue enjoys a Grand Opening.
About the Author