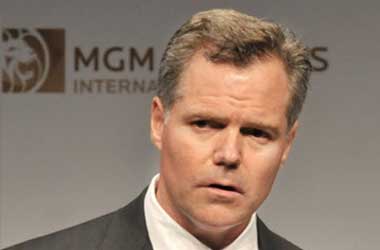 Jim Murren, Chairman and Chief Executive Officer (CEO) of MGM Resorts International has criticized the decision of the Department of Justice (DOJ) regarding the Wire Act.
Murren made these critical remarks during the conference call discussing the earnings of the fourth quarter of the company.
Murren reportedly said that it was "poorly written" and "perplexing" and believes that the opinion of the DOJ is unenforceable in the gaming industry.
The DOJ had written a 23-page report regarding the 1961 Wire Act which is presently applicable to all forms of gambling including online gaming industry. The twist in the DOJ's stance was that they believed inter-state betting or betting across state lines should not be permitted according to the Wire Act. The DOJ then decided to issue a notice to all gaming operators informing them that they could no longer offer iGaming services across state borders.
Fox Business
Deputy Attorney General Rod Rosenstein issued a memorandum last month, informing operators that they have a 90 day grace period before the new interpretation gets implemented. The reason for the delay is due to the confusion of the Justice Department on how they will implement any prosecutions brought about by the recent opinion on the Wire Act.
Gaming Anlaysts Back Jim Murren Stance
There are a number of gaming analysts who back Jim Murren's stance. They believe if the DOJ goes forward with this new opinion it would nullify all IT advancements made in the last 7 years and significantly impact both the online gaming industry and gaming operators in the United States.
MGM Resorts has been aggressive in its stance against the opinion of the DOJ because the company has been expanding its interactive business interests during the last year. The casino operator has been lobbying for the legalization and regulation of sport betting.
MGM partnered with GVC Holdings last summer to create an online gambling and sports wagering platform that will be based in the U.S. MGM was very optimistic on the 50-50 joint venture partnership and this new opinion from the DOJ puts everything in jeopardy.
MGM Resorts had also partnered itself with several sporting leagues in the country such as the National Basketball Association (NBA), National Hockey League (NHL), and Major League Baseball (MLB). The move was designed to position MGM to offer sports betting services.
About the Author