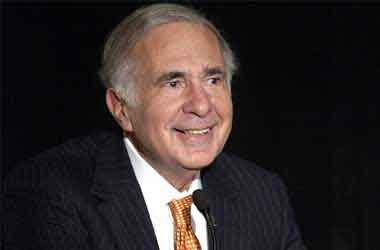 Billionaire investor Carl Icahn who recently sold the shuttered Trump Taj Mahal casino has filed an appeal against the tax assessment made by the city for this year. Icahn has filed similar appeals for other properties he owns in Atlantic City which include the former Trump Plaza and Tropicana in Atlantic City.
For the Trump Plaza and Trump Taj Mahal properties, the tax assessments that have been under contest are for 2014 to 2017 while in the case of the Tropicana, the appeals have been filed for 2015 and 2016. The complaints do not mention the appeal amount but they typically run into millions of dollars which is likely to impose a further strain Atlantic City's already precarious financial situation.
The state Department of Community Affairs which is overseeing the state takeover of the city has stated that negotiations were on. In a statement, Jeffrey Chiesa state overseer said,
We're in discussions with Mr. Icahn and his representatives right now about trying to resolve outstanding monetary issues regarding his casinos.
Gov. Chris Christie earlier in the week said that the state was willing to negotiate with Icahn as it had with Borgata Hotel Casino & Spa, but warned that the city was left with limited financial resources. The city agreed last year to pay $72 million to the Borgata casino to settle the $165 million it owned in tax refunds.
Under a law passed last year, casinos can make fixed payments in place of paying property tax and appealing tax assessments. Casinos will pay $120 million to the city in total this year.
According to a local media report, Icahn's controlling companies have paid Atlantic City over $30 million in property taxes for the three properties. However, all of them have seen a drop in their values since the assessments in 2014.
According to tax records, the Taj Mahal casino was assessed by city officials and estimated to be around $812 million in 2014 but its current value is estimated to be around $225 million.
Trump Plaza's value fell to around $31 million in 2017 after being assessed $209 million in 2014. The Tropicana was assessed by the city to be around $580 million in 2017, down from $680 million in 2014.
Atlantic City's overall total tax base has declined sharply from $20.5 billion in 2010 to around $6.5 billion in 2016. The city was recorded to have a bonded debt worth $224 million last year, mostly related to casino tax appeals.
About the Author