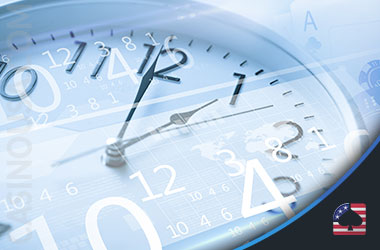 A trip to your casino of choice and indulging in your favorite game is always a thrill. Many would think that people visit casinos whenever they feel like it, right?
But, is there such a thing as the best time to go to a casino during the week?
We're afraid that the final answer isn't so clear-cut, as it all depends on numerous factors.
Essentially, it all boils down to the type of games you'll be playing, the time of day when your focus is at its highest, and whether you like crowds. Sadly, there isn't a specific day of the week when winnings are the highest or anything like that. We are all aware that casinos host games of chance, and their outcomes aren't dependent on the time of day.
That said, there are certain actions you could do to maximize your chances of winning. If you want to learn if there's such a thing as the time of day or day of the week that can help you come out on top, stick with us as we dispel these myths step by step.
Best Time of Day
Most people associate casinos with nighttime, as we're used to seeing flashy Las Vegas casinos at night in the media. However, believe it or not, people visit these establishments in broad daylight, too.
There are specific games you can play during certain times of the day if you want to increase your chances of winning.
Best games to play at night — Progressive slots are more likely to hit at nighttime simply because there is a much higher number of players spinning the reels at the same time. When it comes to Texas Hold'em, most of the tables will be open, and there will be more people to go up against, which can be a double-edged sword.
Best games to play during the day — Social players may prefer daytime in the poker rooms, as they aren't as crowded. As for table games, this time of day is ideal, as you're playing against the house, not an individual. Plus, you won't have to worry about crowds distracting you from your game. People are usually more alert in the morning, with their concentration level at its peak, so you might want to consider that too.
Best Day of the Week
We've said it before, and we'll say it again — the best day to gamble at a casino is mostly a matter of personal preference. Yet, depending on the day of the week, you may come up against certain restrictions while trying to play.
Monday–Thursday — Unless you're an orange tomcat who absolutely hates Mondays, there's nothing stopping you from visiting your favorite casino that day. From Monday to Thursday, there usually isn't that much action during the day, with more visitors arriving as the evening comes. The good news is that you'll find most of the tables free, but you might have trouble locating one with dealers instead.
Friday–Sunday — Friday is the day when the casino scene comes to life, especially if you live in a big city. You'll see hordes of players visiting their preferred venues and gambling their way into next week. Saturdays are just as busy, while Sundays see more visitors in the morning than at night when everyone is packed and ready to set out home.
Outward Factors
We've already mentioned that there are certain external forces that can impact your play depending on the time of day and date.
Let's take a closer look at each of them. 
Final Takeaway
Let's put an end to the perpetual dilemma of whether it's better to visit a casino during the day or at night. The truth is, neither matters if we're talking about the likelihood of winning a game. Casino games are set up the way they are; there's no changing that. However, what you need to take into consideration are your personal preferences.
If you feel more comfortable playing in large crowds, visit the casino on weekends. Those of you who prefer a calmer atmosphere should try morning hours instead. Only then will you be able to make the most of your experience.
About the Author