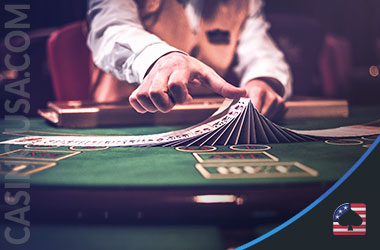 If you've ever visited a brick-and-mortar casino, you've probably had an interaction with the casino's dealers.
What you've probably noticed are their composure and professionalism, but do you know what their duties are?
Many of us don't actually know about the particularities of their jobs and what they need to do to ensure an entertaining and safe playing environment.
For that reason, I've dug deep and found out all there is to know about casino dealers and their duties. If you're interested to find out more, keep reading!
How to Become a Casino Dealer?
Getting the title of a casino dealer is not a simple process; you can't just apply for the job and start working once you get a callback. However, the croupier calling doesn't require a college degree — only a few weeks at a dealer school.
Anyone who wants to apply needs to be over 18 years old, without prior felonies, and with a high school diploma or GED.
Once the formalities are over, dealers should try to find a casino to help get them some experience. Most newly opened casinos allow on-the-job training sessions, which usually allows dealers to get started in the industry. Naturally, a croupier can always go to the casino they've dreamt about working at and ask for training.
Dealers should also pay attention to their particular state's requirements. Not all states follow the same guidelines, so some might have additional things that need to be taken into consideration.
For a more in-depth look into becoming a casino dealer, check out our full guide here.
What Skills Should a Dealer Have?
Getting a formal education is only the first step to becoming a dealer, as many other factors come into the picture once a dealer is about to start their first job.
Dealers need to have specific social and personal skills that will help them thrive in the industry.
Some of the most important skills a dealer should have include:
Communication Skills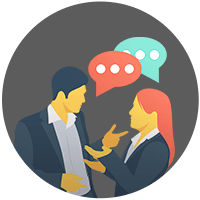 Good communication skills are necessary for this job. Communicating with colleagues is part of the job, but communicating with players is another thing.
Dealers often face challenges, including loud and drunk players, people who don't know the rules of the game, and similar. That's why dealers need to know how to communicate patiently and clearly above all.
Analytical Reasoning Skills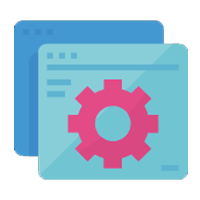 Aside from calculating quickly without using a calculator, dealers need to possess analytical reasoning skills to detect any fraudulent activity.
Croupiers have to be able to detect anyone who's cheating or using tricks. To do that, they need to have a clear understanding of the game and be familiar with all the ways people can cheat.
Furthermore, dealers need to know the particularities of every table game the casino they work at offers.
Skills of Attentiveness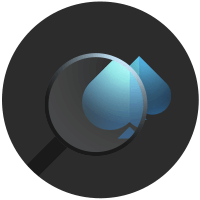 As I've mentioned, dealers need to be fully alert at all times. Staying concentrated for a long time is not something everyone can do, but dealers have no choice.
Similarly, dealers need to be quick on their feet and instantly react if something is not going according to plan.
Customer Service Skills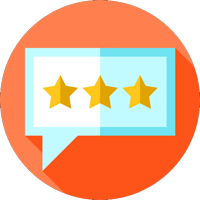 Although the job is far from a customer service position, dealers need to know how to deal with customers who are not having a positive experience.
Naturally, players who are losing will be upset; some of them might even try to cause a scene. If that happens, the dealer needs to step in, talk to the person calmly, and resolve the situation.
Having a cool head and poise in these situations is essential.
Physical Stamina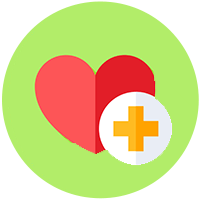 Although croupiers are not construction workers, they spend a lot of time on their feet (unless dealing poker).
Typically, dealers change between tables and games, meaning they must stand, sit, bend for chips, cards, etc. over long periods. All of that requires extreme physical stamina.
Outgoing Personality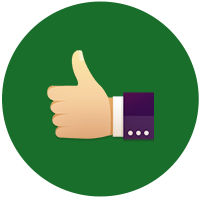 Having an outgoing personality as a dealer is not a requirement, but it's something most casinos are looking for.
Besides, a dealer's personality will greatly impact their tips, which can be a good chunk of their salary.
So, they need to care for people and keep them engaged even when they're losing. The biggest success is having people coming back to their tables.
Aside from all these skills, dealers also need to appear well-groomed and take care of their appearance as they're not only representing themselves but also the casino.
Main Croupier Responsibilities
The skills I've mentioned above are interconnected with some of the responsibilities casino dealers have.
These duties are part of their jobs as dealers, and they need to perform them every day. Let's take a look.
Each dealer needs to tend to a number of tables every night. Naturally, a dealer needs to adapt and switch between tables, so maybe they'll have a poker and blackjack table for the evening, or even switch to roulette, craps, and others.
It goes without saying that every dealer needs to have in-depth knowledge about each of the games offered.
Dealers need to distribute chips, cards, dice, and any other required equipment by following the rules of the game at all times.
They also need to closely monitor the situation at the table in case of any tampering.
If necessary, a croupier needs to provide information about the game rules and then observe every player's activity during the game. If there's any suspicion about fraudulent play, the croupier needs to notify the floor supervisors without alerting the players. It's quite delicate work, actually.
Dealers also need to exchange players' money for chips and then collect chips from any losing bets.
What's more, they need to direct winning patrons to selected cashiers for payouts at the end of the gaming session.
At the end of the day, a dealer also needs to finish all administrative duties they might have, such as end-of-shift reports and bookkeeping. This also prepares the turf for the next shift of supervisors and dealers.
Final Thoughts
As you can see, there's much more to the croupier job than many casino goers might think. A responsible casino dealer takes their job seriously and deals with a lot of pressure on a daily basis.
What's more, the job responsibilities are numerous and include a lot of management. That's why a croupier needs to be responsible, patient, skillful, and outgoing, among other things.
Interested in becoming a casino dealer but not sure about salary? We have everything you need to know about casino dealer wages in this blog post.
About the Author