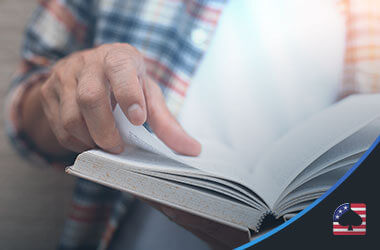 While gambling may greatly depend on luck, good fortune is not the only thing you need to be a successful gambler.
Excellent players are not born — they are made through a lot of practicing and learning. Some of the greatest gambling personalities, such as Daniel Negreanu and Maria Konnikova, are avid readers, perfecting their technique through constant learning.
Indeed, gambling books can provide inspiration and a source of knowledge for aspiring gamblers, in addition to being a great pastime for any casino enthusiast.
As an ardent gambling fan myself, I've taken a lot of interest in all relevant literature and compiled a list of ten of the best books about casinos you don't want to miss.
Beating the Casinos at Their Own Game by Peter Svoboda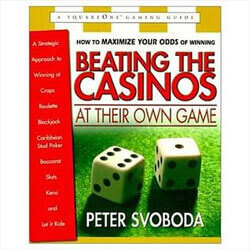 Peter Svoboda's gambling book is all kinds of interesting, both in and out. I know we shouldn't judge a book by its cover, but you wouldn't be making a huge mistake if you did just that in this case.
Not only does Beating the Casinos at Their Own Game provide a great source of gambling knowledge — it is also packed with colorful illustrations that transport the reader to the casino floor.
Svoboda wrote the book with beginners in mind, so it neatly explains the foundation of the most popular casino games. Therefore, if you are a casino rookie who needs a good guide that's not too complicated, this may be just the book you need.
Guide to Modern Poker by John Scarne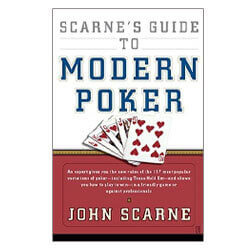 Long before becoming a renowned author, John Scarne had already made a name for himself as an expert card manipulator and a magician. Therefore, it makes sense that gambling fans everywhere received his first gambling book with open arms.
His Guide to Modern Poker applies the principles he uses in draw poker to other games. No matter whether you want to start learning about poker from ground zero or hone your existing poker skills, you can make use of this book.
Not only does Scarne dive deep into the structure of the game, but he also artfully presents how you can read your opponents as well as use bluffing techniques to curb their ability to read you. He also includes tips on how to recognize card cheats and see through body language.
The Frugal Gambler by Jean Scott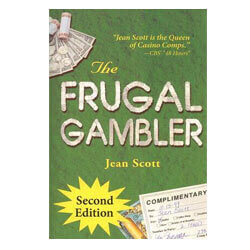 When the book The Frugal Gambler was first published, hardly anyone had heard about Jean Scott, much less her gambling background. However, her first publication became an instant bestseller, making her a household name to casino enthusiasts country-wide.
The Gambling Grandma, as Jean soon became known, offers tips and tricks on how to manage your money as a low roller and utilize the casino offers and discounts to your advantage.
However, the book is not a collection of dry and dull facts as Scott also shares her poker experience and exciting stories about her poker career.
Gambling 102: The Best Strategies for All Casino Games by Michael Shackleford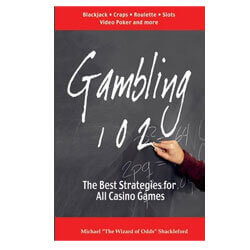 Michael Shackleford is a Californian actuary and mathematician whose professional analysis of the mathematics behind casino games has earned him the name Wizard of Odds.
As the title of his book suggests, it is not intended for beginners since it requires that the reader has some basic card game knowledge.
In Gambling 102, Shackleford outlines the best card game strategies he's come up with in his extensive research. He focuses on the most popular casino games you can find in most casinos.
This book may not be what one would call light reading, but if you enjoy mathematical theory and seek to improve your card game skills through exact science, then I advise you pick it up.
The Professor, the Banker, and the Suicide King by Michael Craig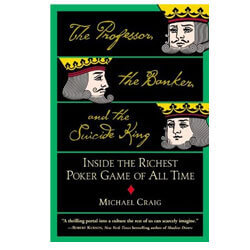 Not all gambling books are purely instructional; some are also fun and entertaining. This is especially true of the next book on my list, a novel that takes you through the world of high-stakes poker.
Set in the glamorous Las Vegas, the book features accounts of the biggest poker games of all time. The action spans several years and includes stories about the best poker players the world has known, including the famous Texan billionaire Andrew Beal.
All of this and more makes Craig's book an exciting gambling novel that takes the reader through the drama and the suspense of the high-roller world, making it one of the most intriguing casino novels out there.
Busting Vegas by Ben Mezrich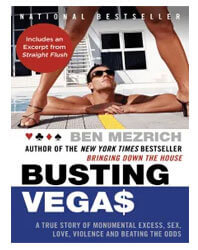 Busting Vegas is an account of the life and experiences of the famous MIT students who scooped millions in prizes as they used their card counting skills against their opponents in Vegas and other casinos around the world.
Not only does Mezrich recount the forming of the first team of card counters and their ensuing gambling successes, but he also spices up the story with certain embellishments in the form of Hollywood-like, action-packed scenes.
Although the gist of the story is true, Semyon Dukach, one of the team members, has denied the truthfulness of many of the most exciting scenes depicted in the book. Nevertheless, Mezrich's piece is still one of the best and most thrilling pieces of gambling writing ever created.
Blackbelt in Blackjack by Arnold Snyder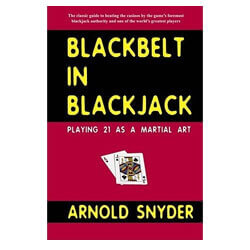 While many may consider blackjack and other table games to be pure games of chance, more experienced gamblers know that there's much more to beating the house than just pure luck. Therefore, if you aim to become unbeatable at the table, you may want to learn the ropes of the game by reading an in-depth manual such as Blackbelt in Blackjack.
After all, you can hardly find a better mentor than Arnold Snyder, a true blackjack legend and one of the original members of the Blackjack Hall of Fame. The card game virtuoso takes you through the best techniques and strategies of multiple deck camouflage, card counting, and team play.
Reading the book will provide you with the best tips and tricks you can use to improve your blackjack game without making it sound too perplexing.
Roll the Bones by David G. Schwartz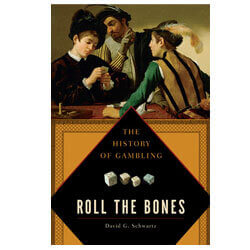 This list would not be complete without a book written by the head of the Center for Gaming Research at the University of Nevada, David G. Schwartz. The author shares his personal experience with card games, but it might not be in a form one would expect.
Rather than elaborating on the best card game strategies that you can use to improve your play, Schwartz takes a different approach and recounts the history and the origin of all of the most popular casino and table games you can find.
What's more, the gambling expert also includes intriguing stories about some of the most well-known personalities who have dabbled in gambling. For instance, there's the story of Voltaire, a celebrated French writer who at one point took home 9 million francs after devising a strategy to trick the lottery.
The Smart Money by Michael Konik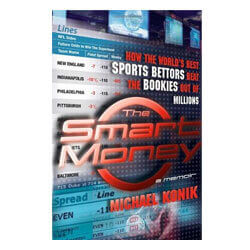 Michael Konik is a professional journalist and an ardent gambler who combined two of his great passions to create a stunning account of the operations behind sports betting in the United States.
In The Smart Money, Konik recalls how he met Rick Mattew, a sports betting genius, and how this encounter changed his life forever, resulting in him winning millions of dollars from sports betting.
The author then goes on to recount his becoming a member of the so-called Brain Trust, a group of sports bettors who figured out ways to beat bookies across the States.
Konik's lively and instructional story lets you in on the most important characteristics of the American sports betting market and features helpful advice for improving your sports betting strategy.
Scarne's Complete Guide to Gambling by John Scarne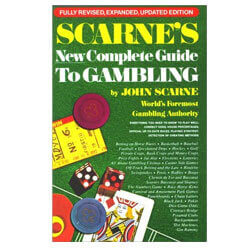 I cannot fail to mention Scarne's Complete Guide to Gambling, one of the most popular gambling books written by a gambling legend, magician, and author, John Scarne.
Among the many gambling books he had written, this one stands out as a comprehensive and instructional manual on live casino gambling. In addition to the rules and strategies, the piece also features the history of the most popular casino games.
Scarne's Complete Guide to Gambling is full of invaluable casino know-how, and every passionate gambler should have it in their collection.
About the Author