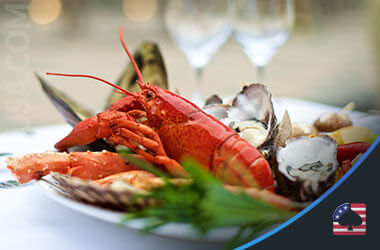 We know how easy it is to lose track of time when you spin the reels or wait for the croupier to deal the next round, which usually leads to low energy and problems focusing. This is when a well-equipped casino floor comes in handy, which is why many casino establishments include bars and restaurants. And when that option comes with a buffet, the entire experience elevates.
Although casino buffets serve a variety of food, today we'll focus on the most exotic one — seafood. Let's find out which US casinos offer the best games and delicious seafood buffet.
Use the links below to jump to the buffet you are interest in learning more about:
Best Seafood Buffet Casinos in the USA
1. South Point Hotel Casino & Spa — Garden Buffet
Most people associate casino gambling with Las Vegas. Yet, Sin City's gambling venues aren't only famous for their gambling opportunities. Interestingly, many offer mouth-watering buffet options, and one that you shouldn't skip is Garden Buffet at South Point Hotel Casino & Spa.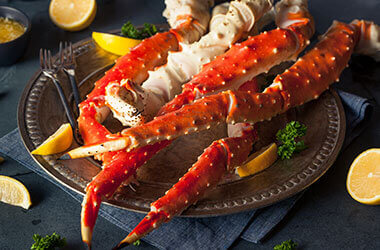 This buffet offers five stations with different types of food, one of which is seafood, where you can indulge in popular dishes like peel & eat shrimp almost every night. However, if you're particular about your food and prefer something more distinct, like Crab Leg Buffet, you should visit the casino on Friday for Seafood Night and try steamed or chilled crab legs.
Other seafood dishes you can try include:
Oyster on the half shell
Fresh salmon with bay shrimp
Newburg and Southern fried catfish with hush puppies
Golden fried shrimp
Steamed clams
Sushi and nigiri rolls.
With each visit, you'll find the full buffet menu prepared by the chef, so we highly recommend you come hungry since this is one of the best all-you-can-eat seafood casino buffets in the country.
2. Casino Arizona — Eagles Buffet
One of the top-rated casinos with an exceptional seafood buffet is Casino Arizona, located in the Grand Canyon State. Look for the Eagles Buffet that serves fresh seafood prepared in a variety of ways. Italian, Mexican, Asian, and American cuisines serve as inspiration for the chefs, so your taste buds are in for a treat.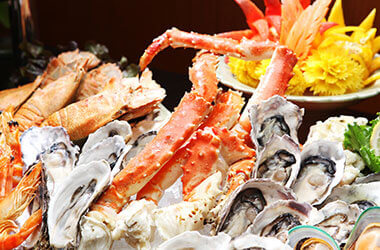 The buffet is closed from Monday to Thursday, so make sure to come during the weekend. The buffet is open during the following times:
On Fridays, lunch is served from 11 a.m. to 2:30 p.m., while dinner times are between 4 p.m. and 8 p.m.
If you come on a Saturday, the breakfast/lunch buffet starts at 10 a.m. and lasts until 2:30 p.m., while dinner goes on between 4 p.m. and 8 p.m.
On Sundays, the working hours only cover brunch from 10 a.m. to 2:30 p.m.
3. Valley View Casino & Hotel — The Buffet
When you find a casino that also features an award-winning seafood buffet, there's no reason to look elsewhere. Whoever thought this wasn't a thing obviously hasn't heard of The Buffet, one of the many dining options available at Valley View Casino & Hotel in San Diego.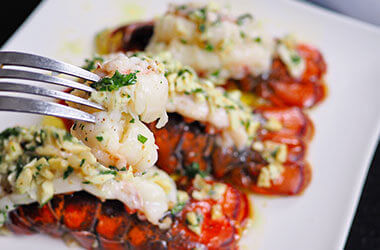 The endless Maine Lobster Buffet you'll find at one of California's most precious gambling gems is open every night of the week, so you can pop over anytime. From Monday to Friday, the buffet is open from 4 p.m. until 8.30 p.m., while the dining starts an hour earlier on Saturdays and Sundays.
Even though this buffet centers around the butter-steamed lobster, you can also taste other specialties, such as:
Shrimp cocktails
Crab legs
Other freshly cooked dishes.
The only downside is that you must at least be a Players Club Blue Card member to get your hands on all the seafood courses. If that's not the case, contact the helpful staff for an easy upgrade on the spot.
4. Yaamava' Resort & Casino — Serrano and Lobster Buffets
It's your lucky day — San Manuel's Yaamava Resort & Casino is home to more than one buffet serving delicious seafood. The first daily option is Serrano Buffet, which serves chilled seafood, among many other dishes. The buffet is open for breakfast, brunch, lunch, and dinner, and the price differs depending on the chosen meal course.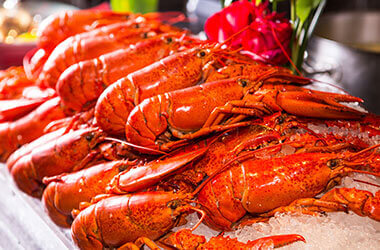 Aside from this all-inclusive buffet, the resort has a special option for true seafood aficionados. Each Wednesday and Thursday from 4 p.m. and 10 p.m., you can feast on the best catches of the day, thanks to a special Lobster Buffet.
The crustacean picks dominate the buffet, but other seafood meals are also served if you prefer not to twist lobster claws and crack their tails. If you're a Club Serrano member, expect a level-based discount but don't forget to make a reservation since the place can get super crowded.
5. Red Hawk Casino — Koto Buffet
Koto Buffet at Red Hawk Casino operates every day but Wednesday, offering gourmet seafood dishes. Moreover, guests can taste true seafood paradise on Fridays and Saturdays.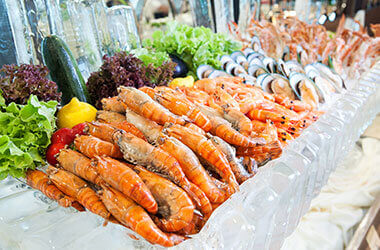 The Seafood Friday & Saturday buffet serves the finest seafood dishes from 4 p.m. to 10 p.m., and the best-sellers are:
Hot snow crab
Ginger and scallion crab
Stuffed clams
Shrimp scampi
Lemon butter pasta with scallops and shrimp
Chilled peel & eat shrimp
Last but not least, there's a Poke Station where you can get your favorite seafood mixed with other ingredients and enjoy a big healthy meal amidst your gambling session.
Final Thoughts
Finding a first-class casino experience with a seafood buffet in the US has never been easier. We looked for such venues across the country and selected the best ones according to:
Games and food selection
Working hours
Customer ratings
Other important details
All casinos mentioned in this text are worthwhile options, so make sure you give one of them a chance. Or try each one if you're often on the move and find your favorite. There's an idea to consider!
About the Author