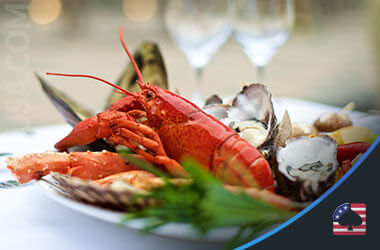 While preparing a trip to Las Vegas, one of the things you should plan ahead for is where you'll eat. With several eateries to choose from along the strip and its environs, you might experience some difficulty deciding where to go when you're already hungry. And the last thing you want is a meal that doesn't leave you sated and in the mood to explore the area.
Thanks to all the high tourist traffic and posh restaurants situated in the luxurious resorts and hotels, you can find any kind of meal in Las Vegas.
Whether it's snacks, fast food, or a particular cuisine, they're all available. But some of the most sought-after dining locations for visitors are the buffets. These allow you to heap your plate with an assortment of delicacies at an affordable cost.
If you're a fan of seafood, you're probably wondering whether you'll find something you like while on your Sin City tour. And the answer is, "Absolutely!" Las Vegas may not be along the coastline, but that doesn't stop restaurant owners from supplying visitors with the freshest options available. Just visit one of the restaurants that offers seafood on their menu.
Though a serving of something like crab cakes will keep you happy, why not set your eyes on casino with seafood buffet? You can pile your plate with every variety of seafood that you desire, so long as they're available. So whether you're in the mood for scallops, ceviche, or a crab leg buffet, have at it.
But which casino has a seafood buffet? We've got a list of the top venues to arrange your Las Vegas tour around.
Use the links below to jump to the seafood buffet your interested in:
1. Bacchanal Buffet
Location: 3570 S Las Vegas Blvd, Las Vegas
Opening Hours: Sunday to Friday between 9:00am and 3:00pm
Dining Time Limit: 90 minutes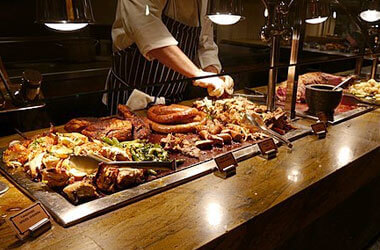 You can find the Bacchanal Buffet at Caesars Palace. It's owned by Caesars Entertainment and famed to have the largest buffet in Las Vegas. The venue is layed out over 25,000 suare feet of floor space and is open to hotel guests and visitors to the casino. It boasts an open kitchen layout, so you can get to watch as your meals get prepared at one of the nine kitchens. The venue doesn't have a dress code, making it possible for you to come dressed casually.
The Bacchanal Buffet's seafood buffet is available everyday except on Saturdays. You can book a table for more than 14 people, making it the ideal venue for tagging along your family and friends. While here, feel free to enjoy other cuisine options like Mediterranean, sushi, and American, plus vegetarian and vegan meals. These meals are created by the 10+ chefs available throughout the day,
2. Imperial Sushi Seafood Buffet
Location: 5845 Spring Mountain Rd Suite B11, Las Vegas
Opening Hours: Monday to Friday from 12:00pm to 10:00pm, Weekend and Holidays from 11:30am to 10:00pm
Dining Time Limit: Lunch Buffet is from 12:00pm to 3:00pm, Dinner Buffet is from 3:00pm to 10:00pm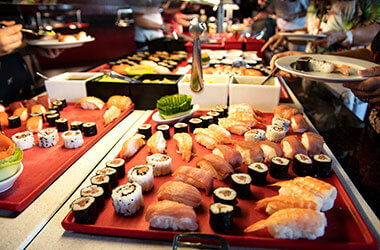 The Imperial Sushi Seafood Buffet is about all things seafood. Choose from an assortment of dishes like:
Honey walnut shrimp
Grilled or fried oysters
Dungeness crab, female blue crabs, or crab legs
Giant clams
Baked mussels
You're free to visit the venue any day of the week with an all you can eat policy applicable to the buffet. Children can also enjoy themselves, with those under 3 feet tall getting to eat whatever they'd like at no cost. But it's worth noting that the lunchtime servings don't have lobster or snow crab legs if that's what you're looking forward to enjoying.
Depending on your plans for the day and who you're with, you can make reservations to eat in, ask for deliveries to a venue of your choosing, such as your hotel, or get take-out to go and enjoy elsewhere.
3. The Buffet at Bellagio
Location: 3600 S Las Vegas Blvd, Las Vegas
Opening Hours: Daily from 8am to 3pm (dinner options available from Wednesday to Sunday)
Dining Time Limit: Depends on whether you'd like brunch or dinner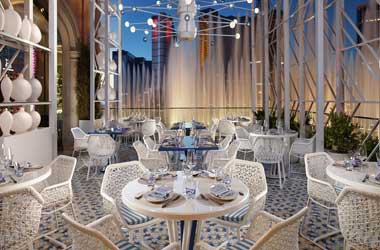 If you've been to the Bellagio Hotel & Casino, look for this venue close to the O Theatre. Guests looking to have a meal here need to appear in resort casual wear. So ensure you dress right to gain entry to The Buffet at Bellagio.
There's a brunch buffet available every day from 8am to 3pm. But to enjoy the dinner buffet, you'll need to pick a day between Wednesday and Sunday from 5pm to 9pm. Prices for the buffet change based on the days you visit during the week.
For brunch – expect to pay around $41.99 from Monday to Thursday and about $49.99 from Friday to Sunday.
For dinner – expect your meal to cost roughly $59.99 on Wednesdays and Thursdays and around $64.99 from Friday to Sunday.
The Buffet at Bellagio is a family-friendly venue with children from 5 and below dining for free and those from 6-11 years dining at half off. And besides the seafood options, you can also try their American, Italian, Chinese, and Japanese fare.
4. Wicked Spoon
Location: 3708 S Las Vegas Blvd Level 2, Las Vegas
Opening Hours: 8am to 3pm on weekdays, 9am to 4pm on weekends
Dining Time Limit: Depends on whether you'd like breakfast, lunch, or brunch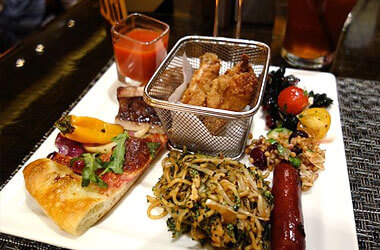 At the Cosmopolitan, Las Vegas, you'll find The Chelsea. This is an entertainment venue covering 40,000 square feet that's spread across two levels. On Level 2 is where you'll find the Wicked Spoon. This location is well-known for its seafood buffet options, which include appetizers like a seafood soup and entrees like the boiled crawfish with butter, among others.
If you're looking for a place to have adult-centered fun, take advantage of the 2-hour limit of bottomless beverages. These include refereshing options like Mimosas, Bud Light Draft, Champagne, and Bloody Marys.
5. The Buffet at Wynn
Location: 3131 S Las Vegas Blvd, Las Vegas
Opening Hours: Every day from 8:00am to 9:00pm
Dining Time Limit: Depends on the chosen buffet option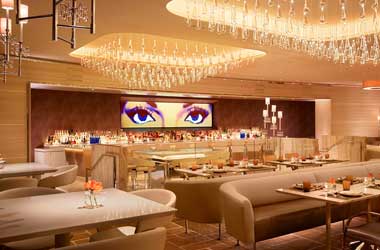 For an exceptional culinary journey, visit The Buffet at Wynn. This venue offers breakfast, brunch, and gourmet dinner. What you'll find available depends on the day you pass by.
From Monday to Thursday, breakfast, brunch, and dinner get served from 8:00am to 9:00am, 9:00am to 3:00pm, and 3:00pm to 9:00pm, respectively.
For gourmet brunch and gourmet dinner, visit The Buffet at Wynn on Friday, Saturday, and Sunday. Brunch goes from 8:00am to 3:00pm while dinner is from 3:00pm to 9:00pm.
Your meals get prepared at the establishment's 16 kitchens. These are all designed according to Executive Chef Jason Duarte's specifications, guaranteeing all culinary operations are streamlined. You can request one of the many meals on the menu to get started. Alternatively, The Buffet at Wynn allows clients to make customized orders based on their taste preferences.
Dress in resort casual wear, so you don't miss out on the seafood buffet. You can pay for your meals using all major credit and debit cards, which is a plus since cash isn't allowed.
Other Worthwhile Seafood Buffets To Visit In Las Vegas
Based on where you visit while in Sin City, our top seafood buffet venues may not be in close proximity. To remedy that, we've listed a few other restaurants where you can get your fill of various seafood dishes.
The Garden Buffet at South Point
A.Y.C.E. Buffet at the Palms Casino Resort
MGM Grand Buffet at the MGM Grand
The Buffet at Excalibur
The Buffet at Luxor
About the Author