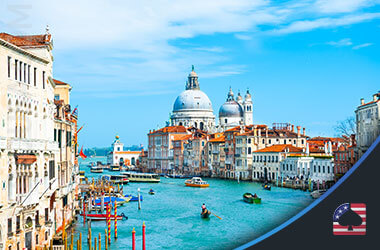 Although most players today are used to the artificial glam and glitz of online casinos, land-based casinos offer the best experience. Moreover, some of the world's oldest casinos provide insight into how the wealthy gambled decades, if not hundreds of years ago.
If you've ever wondered about the longest-standing casinos in the world, you're on the right page. We'll uncover some of the most historic casinos if you're interested in purchasing a one-way ticket.
View the oldest casinos in the world at a glance below:
Casino di Venezia, Italy
Casino de Spa, Belgium
Casino Baden-Baden, Germany
Casino de Monte Carlo, Monaco
Golden Gate Casino, the USA
Interested in learning more about each of these casinos? Keep reading to find out more.
Casino di Venezia, Italy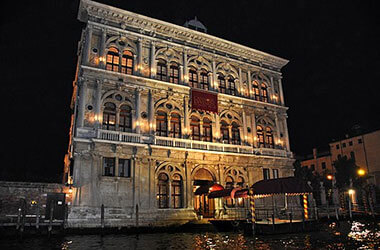 Image by :Dennis Jarvis from Halifax, Canada, CC BY-SA 2.0, via Wikimedia Commons
It's not surprising that the world's oldest casino comes from the cradle of Western civilization. Italy hosts the oldest casino in the world in Venice, the Floating City. Casino di Venezia is located in Ca' Vendramin Calergi, a 15th-century palace on the Grand Canal. The casino has been a part of the building since 1638.
Its historic walls still attract players, most of whom choose to get there by gondola or water taxi. It's an elegant way to arrive at a casino, that's for sure. The casino is filled with rich history and extravagant decor.
Casino di Venezia offers a range of games, including classics like poker, blackjack, roulette, and more. Don't worry if you're a slot fan; you can also try around 600 slot machines. The casino also hosts some fine dining options so that you can have an authentic Italian evening.
Casino de Spa, Belgium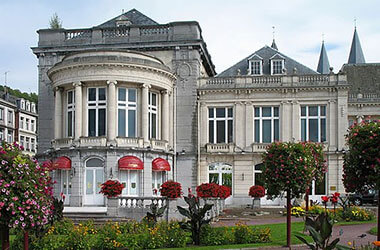 Image by: Marc Ryckaert (MJJR), CC BY 3.0, via Wikimedia Commons
Within a couple of hours of Italy, you'll find the second-oldest casino in the world. Casino de Spa is located in a Belgian city named Spa. Its location is perfect for any sports fan as it's only a short 20-minute drive from Circuit de Spa-Francorchamps, the site of the annual Formula One race.
Casino de Spa was built in 1763, bearing tremendous historical significance. Unfortunately, the casino was almost destroyed during World War I, with most of its outer walls charred in a horrific fire. The venue was renovated in 1918 and then went under complete reconstruction in the 1980s.
The casino floor offers a mere 100 slot machines, but its charm lies in the table games section. Players can enjoy roulette, blackjack, and poker variants, with Texas Hold'em being the most popular. Casino de Spa even hosts Texas Hold'em tournaments, attracting participants from all over the globe.
Casino Baden-Baden, Germany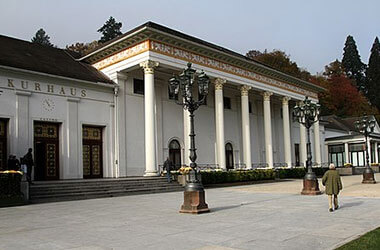 Image by: Gerd Eichmann, CC BY-SA 4.0, via Wikimedia Commons
Once you're in Belgium, you can hop on over to Germany, more specifically Baden-Baden. This Southwestern spa town is famous for its thermal baths but also welcomes some of the world's best gamblers.
Casino Baden-Baden was presumably opened in the 1820s when the building was initially constructed. Unfortunately, there's no precise date due to the type of clientele that visited the premises at the time. The casino got its reputation in the 1830s when France banned gambling in the country, forcing many French players to cross the border to enjoy this activity.
That, however, does not diminish the importance of this venue. The building is a beautiful representation of neoclassical architecture with its opulent interior and grand decorations. It is located in an area called Kurhaus, where you can host events, enjoy the spa, and more.
You can find all the classic table games here, including poker. The slot selection is also unique, with over 140 machines. High-rollers can enjoy some jackpot games, while the casino hosts tournaments for poker enthusiasts.
Casino de Monte Carlo, Monaco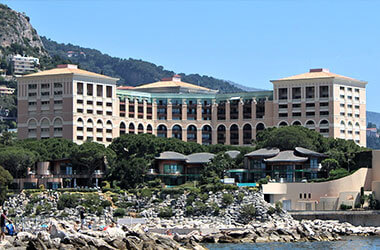 Image by: Alexander Migl, CC BY-SA 4.0, via Wikimedia Commons
You might not have heard of the three oldest casinos in the world, but we doubt this one has escaped you. Casino de Monte Carlo is one of the world's most famous casinos, established in 1856. Moreover, this casino is also one of the world's largest, welcoming players from some of the wealthiest and most well-known families.
Interestingly, the idea for the casino came from Princess Caroline of the House of Grimaldi, who wanted to prevent the state from going bankrupt. The casino then relocated in 1863 to where it is today. The venue is so famous that it even served as an inspiration for numerous movies, shows, books, and more. It even appeared in two James Bond films.
Casino de Monte Carlo has a strict dress code, so not just anyone can walk off the streets to play a game of craps. Aside from that, players can enjoy classics like:
Poker
Baccarat
Blackjack
Roulette
Slots
Trente et Quarante
Moreover, Casino de Monte Carlo was one of the world's first casinos to incorporate entertainment and fine dining with gambling, so you can expect to be blown away if you ever decide to visit.
Golden Gate Casino, the USA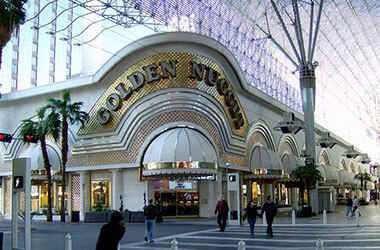 Image by: Mikerussell at English Wikipedia, CC BY-SA 3.0, via Wikimedia Commons
Not surprisingly, the oldest casino in the USA is located in Las Vegas, Nevada. Opened in 1906 under Hotel Nevada; this casino represents the oldest operational casino in the US.
What makes this casino interesting, aside from its history, is that gambling was outlawed in 1909, shortly after its opening. You might not have known this, but the road to legal gambling in Sin City was a bit complicated.
While gambling was illegal in Las Vegas, the hotel hosted a few games, like non-cash tournaments and small stakes games. Gambling became legal in 1931, and the hotel changed its name to Sal Sagev (Las Vegas backward). That name did not stick, and the hotel was rebranded in 1955 to Golden Gate, as it is known today.
The casino is located on the famous Fremont Street and is still open. It hosts numerous well-known table games like craps, blackjack, roulette, 3-card poker, and similar, but also many exciting slots. The casino is no stranger to tournaments, so you can always find one to sign up for.
As the casino is part of the Golden Gate Hotel, you can enjoy some fine dining and entertainment. It's never a dull moment in Vegas.
Where to Go?
With the five oldest operational casinos in the world, it can be a true dilemma where to go. All these casinos are well-known and respected in the gaming world, so you won't be disappointed no matter which one you choose.
In any case, you're in for a real treat — you'll visit some of the most historically significant buildings in the world, roam the halls filled with rich history, and play at some of the oldest tables and slot machines. Just make sure you look the part, and you're good to go.
About the Author