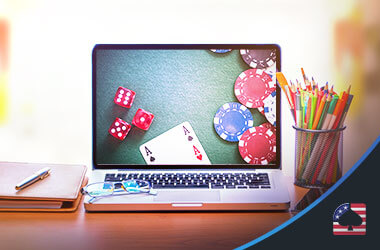 Starting to play casino games without knowing any of the rules can be tricky. Some games are very complex, while others require a dose of skill, making them an unpopular choice for people who are just beginning to explore the world of gambling.
Luckily, there are also plenty of casino games that are easy to learn.
This article will list some of the most beginner-friendly casino games and go over their basic rules. Enjoy!
Video Slots
Video slots are the most popular casino games by a long shot, and they owe a lot of their popularity to their simplicity. Namely, you don't even need to know the rules of video slots to win.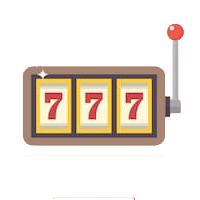 These games are entirely luck-based, so all you need to do is press the spin button and hope for the best. The only control you will have is setting how much money to wager per one play.
Nevertheless, if you want to have an enjoyable gaming experience, you should know how video slots work and what constitutes a win.
Most slots are reel-based. A game will have several reels (typically three or five) that spin around and contain certain symbols.
To win at video slots, you will have to connect identical symbols in a given left-to-right line called a payline. The number of paylines and their structure can vary from one game to another.
If this is too confusing for you, we suggest that you start with classic 3×3 slots that usually only have nine paylines. Playing these games will make you better understand how slots work, so you can later move on to playing games with a more complex structure.
While probably the easiest, video slots are also the most potentially rewarding casino games. Progressive slots can sometimes have jackpots worth millions of dollars, making them a magnet for both beginners and experienced players.
Baccarat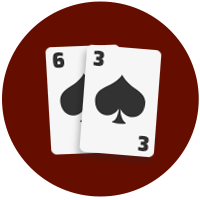 Card casino games tend to have complicated rules, but baccarat is the exception. This is another game that is extremely easy to play and doesn't require the player's knowledge of all the rules.
Baccarat has three main bets — Player, Banker, and Tie.
After you place a bet in one of these fields, the dealer will draw cards for the player and the banker. Whoever gets the best combination wins the hand, although a round can finish in a tie as well.
The most important thing to understand here is that the player's hand does not need to win for you, the player, to win the bet.
If you wagered on the banker and the player loses, you will win the stake. The player bet pays 1:1, the banker bet also pays 1:1 but usually comes with a 5% commission from the casino, and a tie pays 8:1 or 9:1, depending on the casino.
The rules through which the winning hand is decided can be a bit complicated to beginners, but we'll try to explain it in the simplest way possible.
Summary of a Baccarat Game
The rules through which the winning hand is decided can be a bit complicated to beginners, but we'll try to explain it in the simplest way possible.
Cards 2 through 9 carry their face value, an ace has a value of one, and face cards (10, J, Q, and K) have no value.

The dealer draws two cards each for the player and the banker, and the winning hand is the one that has its card total closest to the value of nine.

If any two cards' total value is ten or more, the first number is dropped (for example, an eight and a six add up to four and not 14).
In some instances, the dealer may draw a third card for either the player or the banker, but you shouldn't worry about that right now.
Some casinos might also have side bets on their baccarat tables, and you can feel free to ask the dealer to explain them to you.
Roulette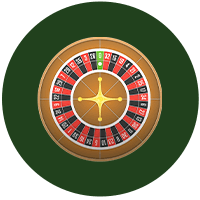 The roulette wheel is one of the first associations people have when they think about casinos. This iconic game has existed for centuries and is still the centerpiece of every major gambling establishment.
The wheel typically contains 37 or 38 slots, depending on whether you're playing the American, European, or French version of the game. European and French tables have numbers 1 through 36 and a single zero slot, while the American wheel adds a double-zero slot.
The goal of a roulette game is to guess the numbered slot on which the ball stops. However, you don't need to guess the exact number every time. Instead, you can place a bet that includes a series of numbers, and if any of those numbers end up being the winning one, you will win your bet.
You can take dozens of bets in roulette, which is why this game is so popular even to this day. For example, you can bet whether the winning number will be even or odd or black or red. You can place your chips on the line between two numbers or a corner covering four numbers.
Of course, guessing a single number (straight bet) comes with the highest payout — 35 to 1.
Blackjack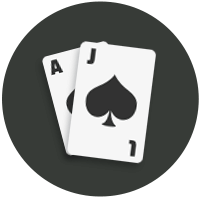 Blackjack is a fun game that caters to both beginners and experienced players. While it is partially a game of skill, blackjack is also heaving based on chance, allowing beginner players to collect some winning bets.
The goal of blackjack is to win a hand against the dealer by getting your card value as close to 21 without going over (going bust).
Cards 2 through 10 are worth their face value, jack, queen, and king are worth ten points each, and ace is valued at either 1 or 11 depending on which value is better for the current hand.
Unlike all the other games we talked about so far, you will have some control of what happens in blackjack.
After receiving your first two cards, you can choose to hit (receive an additional card), stand (receive no more cards), or split (separate a pair of cards of equal value and play them as two hands).
If you reach a value of 21 or get closer to 21 than the dealer, you win.
The payout for a regular winning hand is 1:1, but if you get a blackjack (exactly 21), you will be paid 3:2.
Final Thoughts
Most casino games are relatively simple, but the ones we mentioned in this article are the simplest of them all, and it will take you minutes to learn how to play them. Once you're ready, you can start playing some more complex games, like poker or craps.
Another piece of advice that we want to give you is to always start by playing a casino game for free before investing any money in it. This will give you a chance to fully grasp the game's rules and practice playing it without risk.
About the Author