41

casinos found based on your search.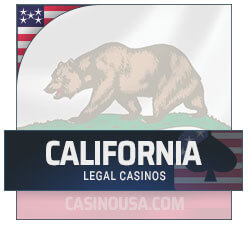 The answer to this question isn't so simple as California adheres to specific gambling rules and regulations. These rules make some forms of gambling in land-based casinos legal and prohibit the others, while online gambling in CA still hasn't made it to the legal books.
In the text below, you'll find more details about both land-based and online gambling in CA, so you can know what to do and how to stay safe while playing your favorite casino games.
Are Online Casinos Legal in California?
California still hasn't regulated online casinos and, at this time, has no laws that would make online gambling legal. While you can access several social or sweepstakes casinos in the Golden State, you won't find classic real-money gambling sites approved by relevant CA authorities.
On the other hand, with no strict laws banning online casinos, one can't say that online gambling is officially illegal either. Without a regulated set of rules, the state can't punish CA players for visiting available online gambling sites.
CA Casino Laws
According to the California Penal Code 330 PC, several forms of gambling are forbidden. However, CA has made some exemptions and said yes to some gambling options such as:
Tribal casinos
Cardrooms
Lottery
Horse racing
The legal age for casinos in California differs depending on the type of gaming.
Note: While you must be 21 to enter a cardroom, you can buy a lottery ticket as soon as you turn 18.
If you want to learn more about the specifics of gambling rules in California, Penal Code 330 PC should provide detailed information. Still, you won't find any legal references to online gambling in this document since California hasn't created any yet.
How to Register in a Legal Online Casino in California
Joining an online casino is as easy as ABC. Here's a mini-guide to help you create an online casino account in a couple of minutes:
Browse through our list and pick an online casino that meets all your gambling needs.

Hit the Join button and fill out the registration form with your details.

Create a unique username and a strong password.

Finish the registration and wait for the casino staff to process it.

Once your account is ready, the operator will send you a verification code through email or SMS, so you can access the site and start using it.

Now, all you need to do is make a deposit, claim a bonus, and start playing!
Best Legal Casinos in California
Although California still hasn't officially approved online gambling venues, casino fans from this state have a plethora of options to enjoy their favorite games. Whether you enjoy visiting land-based casinos or prefer to play online, the Golden State offers some possibilities.
Read on to learn more about both forms of gambling in California.
Legal Online Casinos in California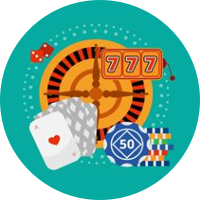 When it comes to legal internet gambling hubs, California currently offers none. In other words, the Golden State hasn't yet legalized online casinos or drafted new bills to make that happen.
Moreover, you won't find any mentions of online gambling in the state's legal papers, which means players from CA aren't likely to be pursued for playing online casino games on available sites.
If you're up for legal online gaming options in California, you can join one of the popular sweepstakes casino and poker sites. Yet, if you're only interested in standard versions of online casinos, many of them operating outside California are willing to accept CA players.
We created the list featuring some of the best websites open to players from the Golden State. You can start playing on any of them in no time, and rest assured the state officials have no legal background to charge you.
Legal Land-Based Casinos in California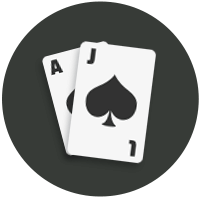 Players who prefer face-to-face gambling instead of following dealers via a live web cam can visit any of the available tribal casino venues in California and play some of the most popular games in the industry.
In addition to Native-American casinos, California also has many cardrooms where players can play against each other instead of trying to beat the dealer.
These two types of land-based gambling establishments offer a variety of classic casino games, such as:
Additionally, horse racing fans can find several facilities across California where they can watch the races and bet on them.
Also, charitable games like bingo are pretty popular in the Golden State. So are lottery games, which are available to everyone above 18.
Useful Guides for Californian Players
Californian online casinos games can be difficult to understand especially with all the laws that govern their use, so here are some excellent, easy to read and in-depth guides to get you started.
Conclusion
Although California's legislature still hasn't added online casinos to its legal documents, players from this state have many other gambling options to enjoy. For one, there's a considerable number of land-based tribal casinos, as well as cardrooms, horse racing, lottery, and charitable gambling venues.
On top of that, since CA laws don't mention online gambling whatsoever, our team has dug up reputable online gambling sites that welcome Californians with open arms. So, check out our list of top online casinos and take your pick.
FAQ
Are online casinos legal in California?
No, California still hasn't officially legalized online casinos. However, players from CA have a plethora of casino sites they can join, and the best of them are listed on our page.
What is the legal gambling age for CA residents?
The legal gambling age differs from one type of gaming to another. To play the lottery, you must be at least 18. But, if you want to visit a cardroom, you can only do it if you're 21 or older.
Are there any land-based casinos in CA?
Yes, there are numerous tribal casinos and cardrooms located within California's borders, and in these venues, players from CA can try their luck on many popular casino games.
What type of casino games can CA players play?
Players from California can try numerous classic casino games in both land-based gaming venues and offshore gambling sites, including slots, poker, blackjack, roulette, keno, bingo, and more.
About the Author