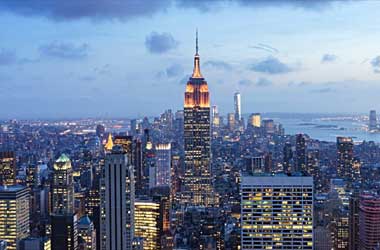 Summary
The $220bn spending plan allows for the casino licensing process to speed up about one year.
The new casinos are expected to be offered near New York City.
Operators must pay $500m each for licensing, at the minimum.
Over the weekend, lawmakers in New York were able to reach a deal to approve the new budget created by Governor Kathy Hochul. The 2023 budget is $220 billion and covers several topics, including commercial casino gaming for downstate New York.
When casino gaming was approved about a decade ago, a total of seven casinos were allowed in the state. Four were opened upstate and by 2023, the three remaining licenses would be open to the downstate area. However, as the COVID-19 pandemic devastated the state, lawmakers felt it was smarter to push the licensing process to sooner rather than later. We should now see that happen.
Gaming Coming to New York City
The new commercial casino facilities are expected to be opened near the area around New York City. Operators will need to pay a hefty $500 million for a license, according to various reports. With the new deal, a board will be created, consisting of six members, who will decide where the new casinos will be located. The goal is to give local communities more of a say as to where the casinos will be placed.
Within the Senate budget, the goal was to create a $1 billion licensing fee. However, casino shareholders were not happy with the high price tag, which explains why the amount went down to around $500 million. However, changes could still be made, and some reports suggest the amount could go up to around $750 million.
Some lawmakers, like gaming proponent Senator Joe Addabbo, would like to see licensing begin by the end of the year. The New York State Gaming Commission is expected to launch a Request for Applications soon, from interested parties. No timeline has been set as to when licensing will begin.
Many Top Operators Interested in Licensing
As the process opens up, many top operators are interested in obtaining approval for casino gaming, including existing casinos in the state. Las Vegas Sands, Hard Rock International and Wynn Resorts have all shown interest in licensing.
Hard Rock has even proposed a few sites as to where they would like to create a commercial casino. It will be interesting to see just how many proposals are submitted and what the plans are when it comes to bringing a casino to New York City.
It is expected that two of the available licenses will go to existing operators. Empire City Casino located at Yonkers Raceway and the Resorts World Queens at Aqueduct Racetrack already offer casino gaming but are not fully functioning casinos. With the new licensing, both would be able to offer slots and table games like Las Vegas style casinos.
About the Author