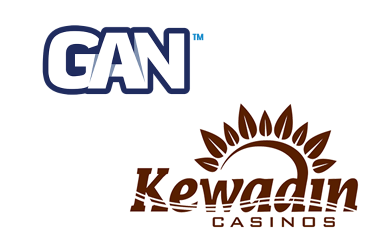 European online gambling software provider GAN recently announced that it will be partnering with the Sault Tribe Chippewa Indians. This new partnership is as a key part of GAN's goal of expanding its reach into the newly regulated gambling markets in the United States.
The newly signed deal cementing their partnership was made in no small part due to the tribe's federal recognition as well as their longstanding presence in the Upper Peninsula of Michigan. The Sault Tribe's gambling division is called Kewadin Casinos and they currently operate five casinos in Michigan.
With the Sault Tribe in a key position to offer online bets in the state, GAN will be contributing its expertise and operate their online gambling software.
Michigan recently legalized online gambling and sports betting. In late 2019, Governor Gretchen Whitmer signed bills that legalized sports betting outside traditional casinos, including mobile bets and online casinos. The authorized operators include Michigan's three commercial casinos and all their tribal casinos.
The first retail sportsbooks opened in all three commercial casinos just this month. However, they did not operate for long, due to the COVID-19 pandemic forcing them to close as authorities try to slow the spread of the coronavirus.
It was generally expected that online sports bets and casino-style games would only be allowed in 2021, to accommodate the state's Gaming Control Board to draft their rules specific to online wagering. It remains to be seen whether the delays associated with the COVID-19 crisis helps or hinders Michigan's timeline to offer online gambling.
GAN, Sault Tribe Confident About Michigan's Prospects
For their part, GAN remains convinced that Michigan will have a robust iGaming industry in a timely manner. Not only will GAN provide the Sault Tribe with their online platform, they will also offer their expertise for operational services—GAN will be providing this with their yet-unnamed partner, a major casino operator in the U.S. that wishes to preserve anonymity until they gain full approval from the relevant regulatory bodies.
The Chief Commercial Officer for GAN, Jeff Berman, lauded Michigan as a state that shows considerable promise for iGaming. Berman also states that GAN's technical know-how and first-hand experience in various U.S. iGaming markets will assist the Sault Tribe immensely.
Allen Kerridge, the CEO for the Kewadin Gaming Authority, was likewise excited at the new partnership. According to Kerridge, retail sports will be the first order of business for all five of their casinos; they also plan on offering iGaming as soon as it becomes legal in Michigan with GAN's expertise.
About the Author