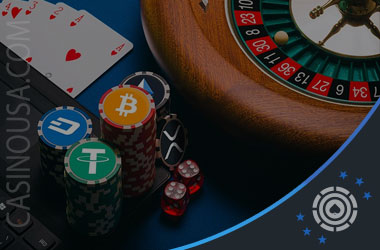 Since the arrival of cryptocurrency in the gaming world, numerous gambling sites have already introduced digital currency as a method of payment.
Nevertheless, several gaming platforms have proclaimed cryptocurrency to be the only accepted mode of payment on their websites.
The explanation for this is the crypto usability index.
Transactions involving crypto are swift and efficient with low transaction costs. There is no need to care about the fiat currency exchange rate or the cost.
The uniformity of the cryptocurrency valuation makes it reasonably straightforward to use and retain. With respect to mode of payment, numerous casino sites have embraced Bitcoin as the widely used digital currency.
3 Bitcoin Games To Try Right Now
The most popular gambling games based on Bitcoin are as follows:
Bitcoin Dice
Bitcoin Dice is among the most common and fascinating bitcoin games an online gamble can come across in every online crypto casinos. It is similar to the standard dice game, with the only exception being the mode of deposit, which is Bitcoin. The game was created by the creator of Satoshi Dice, a front-runner in Bitcoin casinos. It should be remembered that dice games are purely based on random luck. Therefore, Bitcoin dice is comparatively simple and easy to play.
Some knowledge of basic math would be helpful in tasting success in the game. The rules are straightforward. A gambler needs to choose 'higher' or 'lower' than pre-determined number and initiate rolling of the dice. If prediction goes right, winning amount will be credited in Bitcoin. As the game is easy to understand, it is one of the most popular games across top online gambling sites accepting crypto as payment.
Another notable aspect of Bitcoin dice is that it provides a very favorable house edge. Several Bitcoin dice platforms work with a house edge of just 1% or even lower than that. Even finding a Bitcoin dice game with a house edge of 0.5% is not a big issue. With a bit of luck and knowledge, a considerable profit can be made in a short-term. It take about 7 seconds for completing a single dice roll, making the game incredible quick. Within a span of one minute, several rolls can be done.
Bitcoin slot
Gamblers will not raise their eyebrows when they are said that slot games are the most popular among online gamers. Distinct theme and ease of use is the main reason for the popularity. Online slots offers an emotional attachment, making the player forget that he is into gambling. Bitcoin, again, is the most popular cryptocurrency for over a decade.
Therefore, a platform offering online games with Bitcoin as mode of payment has become very popular in a short period of time. A wide range of slot games are offered by online casinos. A gambler can choose to play slot machines with an increasing jackpot or simply play without that. All that a slot machine player needs to do is to spin the reel. A huge range of options are provided to online slot players. Many online casinos allow even a bet of one cent and several slots can be played at the same time.
Bitcoin poker
Similar to slot machines, poker is by far the most common card game a gambler can come across on online gaming pages. Casinos even offer players to compete with one another in poker games, devoid of house edge. Bitcoin poker can be regarded as the next level in online gambling domain.
As it has become increasingly difficult to play poker games using fiat currency due to Covid-19 pandemic, there is a huge move towards online poker. Considering the easy, cost-effective and speedy deposits and withdrawals, using Bitcoin to play poker is one of the best options available for online gambler. A lot of money can be made as Bitcoin based poker is relatively new. In online video poker games that accept Bitcoin, gamblers can select their strategies on the basis of shuffled card. It is interesting, but needs a lot of practice, rather than luck, to succeed in it. Once an online gambler understands the nits and grits of Bitcoin based poker game, regular income can likely be created.
About the Author