Active filters:
Clear all filters

Wild Casino
Bonus Offer:
$5,000 Welcome Bonus
More Info
Available Games
Slots
Blackjack
Roulette
Live Dealer
Baccarat
Features
Great selection of slots
High-quality live dealer games
Excellent welcome bonus
Crypto-friendly

Ignition Casino
Bonus Offer:
$3,000 Welcome Bonus
More Info
Available Games
Slots
Blackjack
Roulette
Live Dealer
Baccarat
Features
300+ games
Crypto-friendly casino
Live dealer jackpot
Bonus galore for different verticals

Cafe Casino
Bonus Offer:
350% up to $2500
More Info
Available Games
Slots
Blackjack
Roulette
Live Dealer
Baccarat
Features
Accepts cryptocurrencies
Generous welcome bonus
Loyalty program
Kahnawake Licence
41

casinos found based on your search.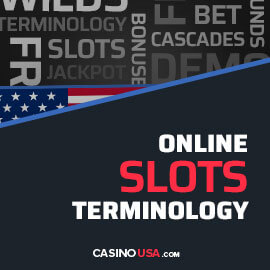 Have you scrolled through an online casino site's slot list and felt confused or unsure of which game to play? Perhaps you loaded a slot only to not understand the controls or rules. We want our readers to fully understand slot game terms, making reel-spinning easy and fun. 
Let me show you the keywords used in slot gaming to help you better understand how the games operate. With this knowledge, you will be ready to spin the reels of any slot game and use what you know to your advantage! Get started by checking out common terms and slot game types found in United States online casinos.
Should Players Learn Slot Terms?
We recommend that online casino players learn more about slot terms to better understand how a game works. With this knowledge, you can increase your win potential. How, you ask?
You increase your loss risk if you play a slot game and don't understand certain terms like RTP (what does RTP stand for? Explain first and then use initials) or paylines. Of course, you want to boost your win potential, and the best way to do this is to learn the meaning of slot terms (relevant terminology). 
This simple act gives you more insight into how slot games work. You can then use the information you gain to your benefit.
Find online slots to play that offer more features and elements that increase your chances of scoring a win with this knowledge! 
Common Slot Terms Explained
Let's dig into common slot terms associated with games so you can start upping your reel spinning sessions. Below is a list of all the common slot terms you will find in the info section of an online game.
Use these words to your advantage by learning what they mean and how you can apply them to your slot game choices.
Active Payline: A payline that is turned on and will provide a prize if a winning symbol combination lands on it.
All Ways Pays: Slots with all ways pays will provide paylines that offer left-to-right and right-to-left payouts for winning symbol combinations.
Autoplay/Autospin: Use this control option to preset automatic spins of the game for a certain time frame at a specific bet amount.
Bet: This is the amount you are wagering per spin.
Bonus Feature: A bonus feature or game is a secondary feature of the slot, such as free spins or a pick 'em round that offers more ways to win.
Bonus Round: A bonus round is a secondary event in the game where players make decisions on the reels for a chance to earn more prizes.
Buy Feature: Utilize this option to buy a feature such as free spins in a game. This lets players skip the waiting part and access the feature directly, though it usually comes at a high price point.
Cascades: A slot that offers the cascade mechanic will see the winning symbols of a combination removed from the game grid, and new symbols fall into place. The new symbols can also trigger wins, and the process continues until there are no new ways to win.
Coin Size: The term coin size describes the value associated with a coin or credit you are wagering.
Demo Mode: In demo mode, players can spin the reels of a slot game with free credits. This option is great for new players that want to try a game at no cost before investing money.
Expanding Wilds: An expanding wild is a unique wild icon that will expand on the game grid to create more ways to win.
Fixed Jackpot: A fixed jackpot has a set amount that can be won. The total will be based on the player's bet.
Free Spins: This is a special feature that some online slots offer. Players can win a certain number of free spins via a scatter or wild icon.
Gamble Feature: After a win, some games provide a gamble round that involves picking a card suit or color. Select the right option and double your win!
Max Bet: This is the maximum amount of cash that can be wagered per spin.
Multiplier: A multiplier is an icon that can increase the payout total. Multipliers start at 1x and can go as high as 100x or more depending on the slot game.
Payline: A payline is a line or pattern that must have a winning combination on it to provide a payout. Paylines can be horizontal, vertical, or move in a zig-zag pattern.
Pay Table: The pay table offers information on the payouts in the game. Set your bet, and then review the table to see what you can earn based on symbol combinations and features.
Progressive Jackpot: This is a jackpot that continues to grow with each spin until a lucky player hits the prize. The payouts can be in the five, six, and seven-figure range.
Random Number Generator: The random number generator or RNG determines where the slot symbols will land on the game grid. It is completely random to create a fair playing field for everyone.
Return to Player (RTP): This is the percentage of total wagered funds the machine will pay back to the player. The number is calculated based on thousands of spins. Games with an RTP of 96% or higher are the best for seeing a return on your investment.
Scatter: The scatter icon is typically the symbol that will trigger the free spins round. Usually, three or more of the icon offers a set number of spins based on the wager you set at the activation time.
Second Screen Bonus: This unique bonus offers a second screen in the game and is not played on the primary reels. In many instances, the bonus is a mini game and can be quite fun to trigger.
Spin: This is the button you push to spin the reels once your wager is set.
Symbols: The symbols or icons are the images you see on the game grid. The icons must create matches to help provide a win on the reels.
Total Bet: This is the total amount you have wagered with the game's settings. Some slots have a section where you choose the number of coins per spin, bet amount, and paylines. Check the total bet section to see how much you will wager based on your selected settings.
Variance: This refers to the game's consistency concerning payouts. A low variance game will offer smaller prizes frequently, while a high variance game will provide larger wins but not regularly.
Ways to Win: Instead of having paylines, a game with ways to win will offer a certain number of outcomes. The number can range from 50 to 1,000 or more.
Wild: The wild is the icon that provides symbol substitutions or other features on the reels, even payouts!
Wild Multiplier: A wild multiplier is a wild symbol with a multiplier attached to boost wins.
Win Both Ways: This refers to symbol combinations providing a payout from left to right and right to left.
Know Your Slot Game Types
Did you know that there are several slot game types to pick from? Online slot game developers offer various reel sets and features, providing players with many options to play. Learning more about the types of games you can play and using the terminology knowledge you just gained will help you increase your win potential and stretch your budget as far as you like.
By now, you have a good idea of how slot games work. Check out the game types below to find options that work for your budget needs and gaming preferences. 
3-Reel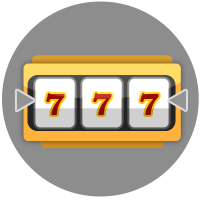 A three-reel slot is considered a classic game because it only offers three game reels and usually one payline. Games sometimes have more than one payline, but the slot style remains traditional. This game type often includes:
Fruit themes
Bars
Diamonds
Stars
Seven symbols
3 Reel slots normaly do not have extra features like wilds or free spins.
5-Reel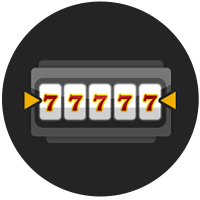 Players want to select the five-reel slot game for a more modern approach to slot gaming.
Players can access a 5×3 or 5×4 game grid filled with features with a five-reel title.
Wilds, free spins, bonuses, and more can all be included. These games also have quality theming and animations for an immersive experience.
Progressives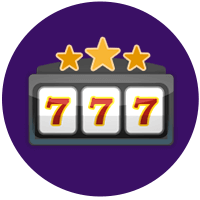 With a progressive slot game, players have the opportunity to win a jackpot prize, and sometimes, more than one!
Progressives can offer a fixed jackpot that includes a max number of coins that can be won or a growing progressive that will continue to build as players spin the reels until the jackpot is triggered.
Prizes can easily reach the six or seven-figure range before a jackpot is activated.
3D Slots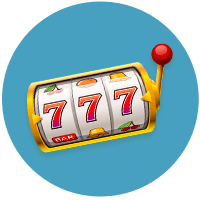 Players interested in a slot game's overall style and visuals must select 3D titles. With a 3D slot, players can access premium animations with visuals that pop off the screen.
This type of slot usually includes second-screen options such as movie-style clips or bonus rounds.
Themed Slots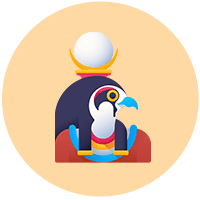 With a themed online slot game, players can spin the reels of a slot with specific theming, such as a movie, television show, or other pop culture reference.
The game may also be based on a certain culture or eras of history, such as Roman times or Egyptian culture. This category is generally popular with players due to the recognizable storylines or characters.
So now that 'slots school' is out, let the lessons end and the fun begin!
FAQ
Do you recommend newbies learn the definitions of slot terminology?
Yes! Understanding the terms you see as you play slot games helps you know which games offer better payout potential.
What key terms should I look for when searching for games to play?
Pay attention to the RTP of the game and the special features offered. Your win potential is boosted with a high RTP of 96%+ and features like wilds, bonus rounds, and free spins.
I don't understand how a slot game works. What should I do?
If you find a game you want to play but don't understand how the controls work or terms used, speak to support. The casino support staff should be able to explain the game to you. Reviews of online games are also offered that help describe the slot's details.
Can I really increase potential wins by learning more about the terms used in slot gaming?
Of course! Terms like RTP help you learn more about games that offer more win potential based on your investment. Games with free spins, bonus rounds, wilds, multipliers, and other special features give you more chances to win at no cost or provide incentives as you spin.
About the Author