35

casinos found based on your search.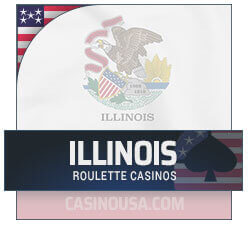 In 2019, Illinois lawmakers pushed the approval of six new land-based casinos and online and land-based sports betting.
Still, nothing regarding online Illinois roulette or other table games had been finalized at the time.
Consequently, legal websites offering roulette games are still a big no in the Land of Lincoln.
Is Roulette Legal in Illinois?
Ever since Illinois legalized casino gambling in 1990, players from this state have had a chance to try various table games, including roulette. The first deal required gambling venues to be on the water and approved a maximum of ten such establishments. Due to such laws, Illinois offered roulette in its ten riverboat casinos for almost 30 years.
In 2019, the Prairie State authorized six additional casinos that could be built on land and feature various roulette versions. This new law also introduced legal sports betting, both land-based and online, but did not state anything about online casino games. Therefore, real-money roulette remained legal in Illinois only as a land-based option, including in some sweepstakes casinos.
In other words, online roulette didn't make it to the finals regarding legislation. However, since the web version of this popular table game was not officially prohibited, players from the Land of Lincoln considered it to be in the gray area. That said, many Illinois residents headed to offshore online casinos to spin the roulette wheel.
Illinois Roulette Laws
For more info on the current roulette laws in Illinois, feel free to go through the documents below:
How to Register for Online Roulette in Illinois
Although you now have a list of trusted offshore online casinos pinned at the top of this page, you are still a few steps away from the real online roulette action. To play popular roulette games in any of these venues, you'll have to open an account. Here's how to do it:
Take some time to go

Go to your chosen casino website and open the registration form by clicking on the Join/Sign Up/Registration button.

Fill out the form with the required details and create a username and strong password.

Verify your account if necessary and use your credentials to log in.

Once you reach the homepage of your chosen website, make a deposit, claim the welcome bonus, and get that roulette wheel spinning.
Best Roulette in Illinois
Players who prefer social interaction during their gaming sessions can find roulette in a dozen riverboat and land-based casino options. Unfortunately, legal online casinos and websites that could possibly offer roulette still haven't been approved by the state.
Nevertheless, players from the Prairie State have numerous offshore options, as online gambling in Illinois falls under the gray area.
Online Roulette in Illinois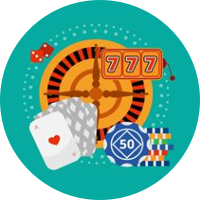 As we stated in the previous paragraphs, Illinois still doesn't have legal websites where you can find roulette games. However, players residing in the Land of Lincoln have found a way to enjoy their favorite table game from the comfort of their homes.
Namely, the state laws don't say anything about taking part in roulette games in offshore online casinos but have a lot against operating such websites on Illinois territory.
Thanks to such a state's stance on offshore online gambling, players from IL can join offshore casino sites, such as those listed at the top of this page and play numerous versions of online roulette.
Land-Based Roulette Casinos in Illinois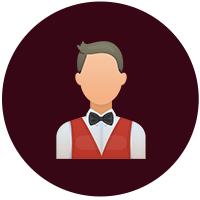 Illinois is home to ten riverboat casinos that can receive the status of a land-based venue after paying a fee to the state.
In addition, the state has approved six new brick-and-mortar casinos, and the biggest one will be in Chicago and feature 4,000 gaming positions.
Illinois Real-Money Roulette Online Casinos
Although you can find many offshore online casinos that offer real-money roulette games, you'll have difficulty finding the ones you can trust. While they may all look similar, some don't particularly care about providing the best service to players from faraway countries.
But, if you stick to our list of the best offshore casino sites with top-notch roulette games, you can rest assured every online gambling session will be a pleasant one.
We made an effort to select the most trusted international casino brands that accept Illinois players so you could test your luck on roulette wheels until the Land of Lincoln decides to make online gambling legal.
Casinos With Live Roulette in Illinois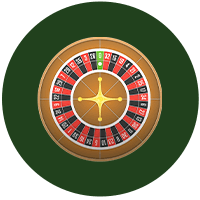 Live roulette options in Illinois increased in number in 2019 when the state agreed to add six new land-based gambling venues in addition to the ten existing riverboat casinos.
Even though you can't go wrong with any of the currently available options, we picked a few establishments simply as a suggestion:
Useful Guides for Illinois Players
Illinois online casinos can be challenging to understand, especially with all the laws that govern their use, so here are some excellent, easy-to-read, in-depth guides to get you started.
Conclusion
Your options for playing roulette in Illinois are much better compared to some other US states. The Land of Lincoln currently features ten riverboat casinos and the approval for six additional land-based establishments as of 2019. As for online roulette, the state still hasn't given the green light or considered any new bills.
Still, the international online gambling market is wide open and has many roulette options available to players from Illinois.
You don't even have to look up the options yourself — they're listed here. The list you've seen at the top of this page features the finest gambling sites, and one of them will certainly be your perfect choice.
FAQ
Is online roulette legal in Illinois?
It depends on the perspective. The state doesn't have official laws that clearly say online roulette is legal. Still, some underground options for playing this popular game have emerged and found their spot among the IL online gambling community.
What types of roulette games can I play online from Illinois?
Websites on our list offer a variety of roulette versions, such as RNG-powered European, French, and American roulette and live dealer versions of the game.
Do Illinois online casinos offer bonuses?
Yes, you can take advantage of many bonuses and promotions in these online casinos. Upon signing up, you can claim the welcome bonus and move on to other promotions as you keep playing.
Can I win real money playing online roulette from Illinois?
Of course. As soon as you make your first deposit and start playing with real money, you'll also get a chance to win real money.
About the Author