Active filters:
Clear all filters

Wild Casino
Bonus Offer:
$5,000 Welcome Bonus
More Info
Available Games
Slots
Blackjack
Roulette
Live Dealer
Baccarat
Features
Great selection of slots
High-quality live dealer games
Excellent welcome bonus
Crypto-friendly

Ignition Casino
Bonus Offer:
$3,000 Welcome Bonus
More Info
Available Games
Slots
Blackjack
Roulette
Live Dealer
Baccarat
Features
300+ games
Crypto-friendly casino
Live dealer jackpot
Bonus galore for different verticals

Cafe Casino
Bonus Offer:
350% up to $2500
More Info
Available Games
Slots
Blackjack
Roulette
Live Dealer
Baccarat
Features
Accepts cryptocurrencies
Generous welcome bonus
Loyalty program
Kahnawake Licence
41

casinos found based on your search.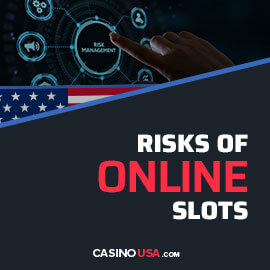 Online slot gaming is one of the most popular forms of entertainment when it comes to online casinos in the United States. Millions of people have access to:
Classic slots
3D games
Jackpot titles
Progressives
The games are a fun way for players to enjoy reel spinning with a chance to win a real money jackpot. The entertainment option also poses a risk if players are unaware of potential dangers.
What type of dangers, you ask?
Players can fall victim to scams, overspending, or gambling addiction without knowing what can happen during gameplay. Got your attention? We want our readers to know the potential risk and enjoy smart gameplay. This way, you can enjoy reel spinning without any negative consequences.
Read on to learn more about recognizing the risks and what you need to do to avoid any issues with online slot gaming.
Learn How to Recognize the Risks
The first step to avoiding risk when playing online slot games is recognizing potential issues. Let's start digging into what you need to know to spin slots responsibly.
First, set a budget. Know how much you are willing to spend and stick to it. When you play without a budget in mind, you can easily overspend, especially considering how easy it is to access online slot games. 
Secondly, be mindful of your gameplay. Are you playing too much? Do you feel a need to spin slots 24/7? Here's the truth. If you want to play online slot games at all times and feel uncomfortable when you do not play, then a gambling addiction is at play. Reach out for help when this occurs. Knowing when to stop is essential to responsible gambling.
It is also important to only play games with reputable providers. You increase your risk of losing money when you spin slots via online operators that are blacklisted or have a shady reputation—only access games from online casinos with a strong reputation as a quality operator. 
Let's dig into the risks a little more to ensure you can recognize an issue and know how to rectify it.
Top Risks Associated with Slot Play
Rapid Spending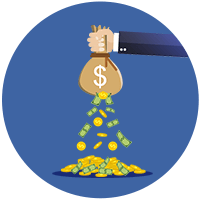 Online slot games are available with a click of a button. It is so easy to play, which can lead to overspending. To avoid this risk, set a budget.
You may blow through a $100 budget in just minutes with continual reel spinning. Then, consider the bet you should place to extend your gameplay.
If you have $100 per session and play $5 a spin, your money will be gone quickly. This can lead to more spending. Instead, opt for lower price points per spin, such as $1 or less. This allows you to play for longer and stay within budget without depositing more cash.
Gambling Addiction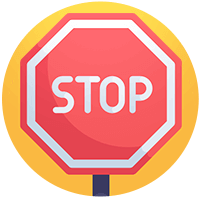 Gambling addiction is a real issue. It can happen to anyone, so every player must know the risks. Setting a budget is a great start to avoiding addiction, but so is setting a time limit.
Tell yourself you will play for 30 minutes to an hour and quit. Remember that reel spinning is a fun pastime and not something you need to do 24/7.
If you find that your life starts to revolve around slots, it's time to take a break and seek assistance. Consider self-exclusion options via your provider or contacting a gambling hotline for help.
Bad Actors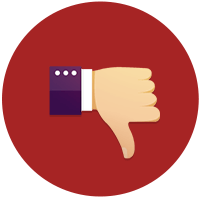 Casinos considered bad actors are those that do not have licensing or are known for shady operations.
Some providers are known for avoiding withdrawals or voiding payments for big wins. To avoid the risk of bad actors, only play at recommended online casinos with a solid reputation.
In my experience, reputable providers are the only secure way to ensure your personal information is safe, along with your financials. You can rest easy knowing that prizes will be paid out on time.
How to Avoid Risk
Now that you know more about the risk involved with slot gaming, what can you do to avoid it? We like to encourage gamblers to take certain steps when starting an online slot spinning session and make habits out of gameplay. This way, your actions will be the same each time you play, which helps to lower your risk of losing too much money, suffering from a gambling addiction, or losing out on wins due to poor casino choices. 
Use the steps below when you decide to play online slots to minimize overall risk.
Choose an online casino with a good reputation.

Deposit only the amount of cash you wish to spend during your gaming session.

Decide on a time limit to play and stick with it.

Set a limit on betting if you land a big win. Decide if you want to save the win to cash out or use it to play more slot games.

Choose a slot with a lower bet per spin if you wish to extend your gaming session.

Stop playing once you reach the time limit for gaming or have lost your budget amount.
If you follow these steps, you can avoid adding additional risk to your gameplay. Of course, there is a risk to playing slots in general because you can and most likely will lose money. However, with these steps in mind, you can lower any additional risk associated with addiction, overspending, and unacceptable providers.
Responsible Gambling
Every online slot player should consider responsible gambling when enjoying reel spinning. Being a responsible gambler means setting a budget and time limits for play and being able to recognize if a problem exists. Online casino providers should offer players tools and resources for responsible gaming via their websites.
Many casino operators offer tools so that players can set limits. This includes how long you play; how much you spend or deposit. Utilize these tools when you can so that your limits are automatically set, and gaming stops once a setting is reached.
FAQ
How do I know a casino is reputable?
Please read our online casino reviews and seek out providers known for quality games and banking methods, plus reliable services. Top-rated operators are the best option for slot fans.
Should I set limits on my deposits and spending?
We recommend that every player have a deposit and spending limit in mind. Online casinos offering limit tools are a great option for safer gambling.
I'm spending too much money playing online slots. What should I do?
If you feel you are spending too much, cut back by setting limits via an online casino provider. If your spending is really out of hand, stop playing for a few weeks to try and control your behavior. You may need to contact a counselor or gambling hotline for additional support.
I can't stop logging on to play online slot games. How do I reach out for help?
You may have developed a gambling addiction if you have trouble avoiding online slot gaming. You must receive help from experts. Contact your online casino for resources or the National Gambling hotline for local gambling addiction counselors.
So now that you've read a detailed assessment of all the dangers found in online slots gaming, hopefully you'll be better equipped to avoid falling victim to the risks involved.
About the Author